Autism-Friendly Outdoor Activities
Winter in the Midwest is often unpredictable, cold, and filled with snow. For parents, finding winter activities for your child with autism can be a challenging. While the snow can be a fun and welcome activity for children, other times, the bitter cold can prevent children from playing outside. So, how do we keep children and children with autism busy during the cold winter months?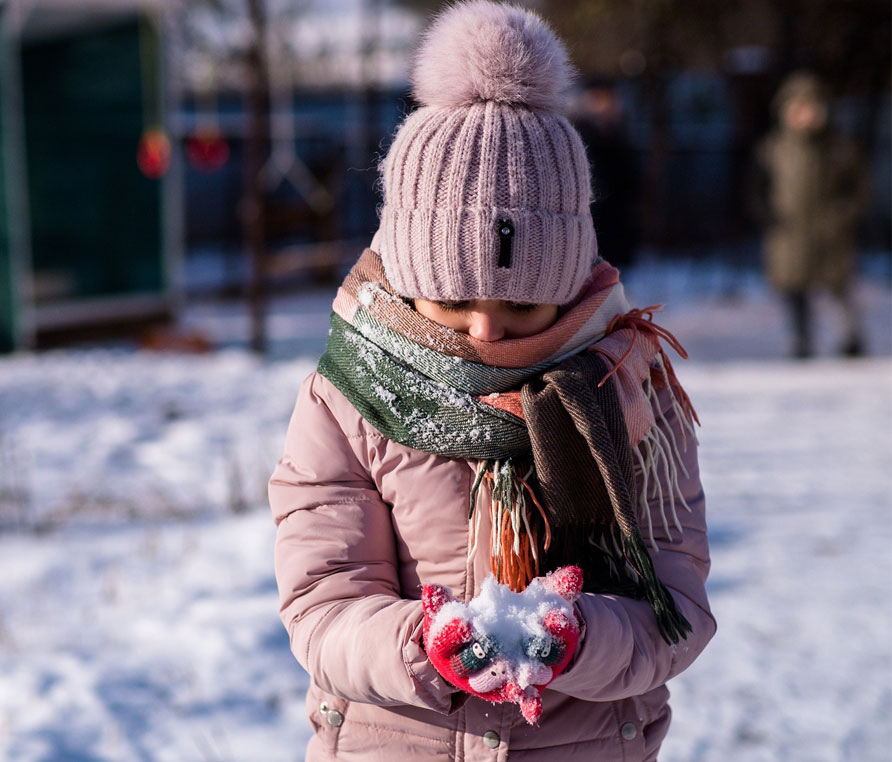 Outdoor Activities
When the temperature is a lovely 35 degrees (which is quite warm in this area during the winter months!) and there is a fresh blanket of snow, here are just a few activities to try with your child with autism.
Build a snowman – this can be a wonderful activity that your child can do independently or as a family. Consider building a replica of a favorite character or naming your snowman. Be sure to always explain that a snowman is only temporary and will melt when it gets warmer!
Sledding – get your child active by finding a park (be sure to find a safe space!) where your child can enjoy a trip sledding down a hill. A favorite past-time of most, this is sure to be something your child with autism will enjoy as well. Consider getting a sled big enough for two people so your child can sled with the assistance of an adult.
Frozen Water Balloons – fill balloons with different color water (just add food coloring!) to make a fun and beautiful display in your yard. Fill the balloons with water and place them outside. Within a few hours you should have a beautiful display of frozen water.
Make Snow Angels – this can be a great sensory activity in the winter for children with autism!
Take a Drive – go look at all the Christmas decorations in your neighborhood.
Go for a Nature Walk – being outside in the winter can be one of the most calming activities for children with autism. It provides them an open space to run, play and explore without the stimulation of indoor environments. If the temperatures are agreeable, bundle up and head outside to a nearby park or trail.
Paint the Snow – a fun and creative alternative to playing in the snow is to paint it. Simply fill some squirt bottles with water and food coloring (make sure you use a lot!), then turn the snow into your canvas.
Indoor Activities
When the weather turns bitter cold or there are several inches of snow on the ground, you may find your child's school closed and a house full of children. Here are a few ideas to keep your child with autism (and all of your children!) occupied when they are stuck inside:
Pajama Day – consider letting your child have a lazy day in pajamas. Make them their favorite breakfast and let them watch a favorite movie or TV show.
Mall Visit – If the kids (and you!) are itching to get out of the house, take a trip to the mall. Make a game of walking around the mall to get some steps in and energy out. If you are able, let your child pick out a new toy or item once you have done so many trips around the mall.
Movie Day – this can be done at a local theater or at home. If you want to get out of the house, take advantage of discounted matinee prices and take the kids to see a favorite movie. Pop some popcorn at home and bring that jumbo size purse to provide some affordable snacks at the theater.
Indoor Snowball Fight – you can buy fake snowballs or create them using crunched newspaper.
Make Pretend Snow – bring the snow inside by combining 2 ½ cups of pure baking soda with ½ cup of conditioner in a bowl and mix together. Show your child how to make snowballs and build a snowman together inside! Show them how to play with this new texture and encourage them to tell you what they are thinking as they touch and shape the pretend snow. This is a great sensory activity for your child with autism.
Build an Indoor Fort – gather your sheets, blankets, cushions and pillows for a magical afternoon at home. You can even create a "fort kit" box for that very purpose. Prepare your child's favorites a snacks, read a few books, and even encourage a nap – everything is more fun in a fort.
For children with autism, on days when school or an ABA therapy center is closed, be sure to do your best to keep a routine and follow through on skills and activities they are working on at home. ABA is meant to be consistent, and can only be successful if parents do their best to practice many of the same ABA skills that your child does at their ABA center at home.
Additional Resources:
https://www.funathomewithkids.com/2013/12/13-winter-sensory-activities.html
https://www.momjunction.com/articles/fun-filled-teaching-activities-for-your-autistic-child_0076817/
Together, we can unlock your child's potential