Meet Lighthouse Autism Center's Staff Spotlight of the Month: Andy.
Andy is a Registered Behavior Technician at our Anderson autism center, where he has worked since September of 2021. Andy attended University of Arkansas and graduated with a Bachelor's in Computer Science and Securities. Andy loves family time, making music, cooking and collecting old records and comics.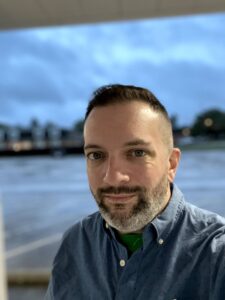 What made you decide to apply to Lighthouse?
I had been wanting to move into a career that was more rewarding and fulfilling in nature. I decided to make a complete career change and move into this field. I wish that I would have made that decision many years ago.
What is your favorite part about working at Lighthouse?
Hands down the kiddos. I've been pleasantly overwhelmed by the team structure and family atmosphere at Lighthouse Autism Center. But, seeing those faces and watching our clients just light up with every small victory will never get old.
How would you describe your Lighthouse experience?
It's been pretty awesome. Seeing the kiddos grow and achieve their greatness, that always makes a day better.
Ready for a career where you can make a difference?