Meet Lighthouse Autism Center's Child Spotlight of the Month: Calan.
When Calan enrolled at Lighthouse, his family expressed that one of their biggest challenges was toileting. It made it challenging to go on outings, be in the car for a long period of time, and the family expressed that this was a priority for them and Calan. Since enrolling at Lighthouse, Calan has made incredible progress with this skill!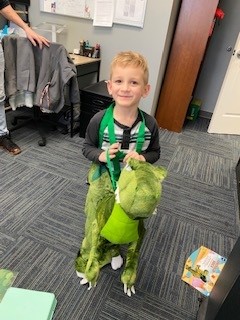 Calan's Progress at Lighthouse Autism Center
Before coming to Lighthouse, Calan struggled with using the bathroom.
Now, he is staying dry while at the center and in the community as well as uses the toilet five to eight times a day!
At home Calan has used the toilet twice in one week independently and has stayed dry while in the car on the way to the center.
Lighthouse Autism Center Staff Perspective
"Calan is doing so well and all of us at Lighthouse Autism Center in Greenfield are so proud of him! He is crushing his goals at the center and at home! We are all so proud of all his success, and so thankful that we get to cheer him on in everything he does!! "
– McKinsey Jessup, Lighthouse Autism Center Program Manager
At LAC, we are seeing incredible progress made by our learners every day.