Meet Kait: New Castle Center
Kait's Lighthouse Story
Meet Kait! Kait is a Senior Therapist at our New Castle center, where she has worked for a one year. As a Senior Therapist, Kait serves as a lead therapist and works closely with the BCBA's on her team as well as provides support to the RBT's working one-on-one with clients.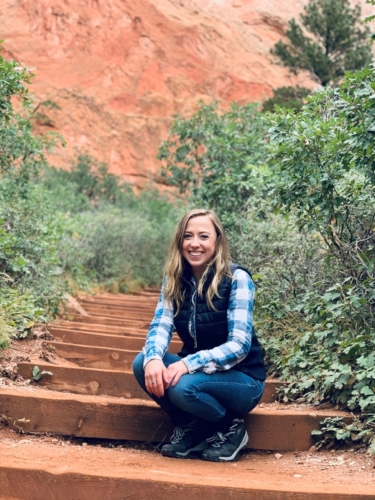 Tell us about why you applied for a position with Lighthouse.
I had a friend that always posted on social media about how much she loved what she did and how rewarding it was (She was so right!). So, I decided to give it a try and ended up falling in love with ABA and what I do now. This job has taught me so much in the short amount of time I have been here, and I want to share a couple of strong key points I have taken away from this amazing opportunity. There is a career out there that isn't just "another job" or dragging your feet to get up in the morning to push yourself in to work a Monday-Friday job. You will find what you love to do as long as you take those leaps and go beyond your own comfort zones to get there. Waking up and going to work is easy for me, because I love what I do, the company that I work for and most importantly I love working with every single one of my kiddos. ABA isn't easy and some days you feel so exhausted and defeated but seeing the progress that these kiddos make in such a short time goes beyond words and makes all of that incredibly rewarding.
Tell us about your favorite part of working with your team at Lighthouse.
There is no one favorite memory I have because it's all been amazing. The team we have at New Castle is always striving to be the best team we can be every single day. We lift each other up, celebrate one another and cheer each other on every single day. Some days are harder than others but working with such a positive team that continuously uplifts each other makes it so much easier. I am so proud to be a part of a team that inspires each other every day to be better and to work together with ease. Not only are we a dedicated and strong team, but we are an even better family. I'm grateful for these people who have motivated me to grow as a person, a friend and an even better RBT.
What is your favorite part of working with the Lighthouse kiddos?
My favorite part about working with all of these kiddos would definitely be seeing their progress from where they started and where they are now. It's always such a joy knowing you made a difference in their lives and all that of that hard work is showing amazing results. Pairing with these kids and building that connection with them is another favorite part of mine because you get to see their face light up when you're around and it makes you feel valued and important which is just another reminder to get up and do what I do every day.
How would you describe your Lighthouse experience?
So far, I have had an amazing experience with Lighthouse. They have given me so many more resources to become a better trainer and more importantly they have given me multiple opportunities to grow as a person. I have met two of my biggest inspirations here who have continued to push me out of my own comforts to become a better person and to grow more than I ever could have imagined and I will forever be grateful for that. This company goes above and beyond to make sure their clients and staff are well taken care of and that alone shows how amazing it is to be a part of this team.
Kait is a dog mom to a Pitbull named Cosmo and enjoys traveling to new places in her free time.
Ready for a career where you can make a difference?