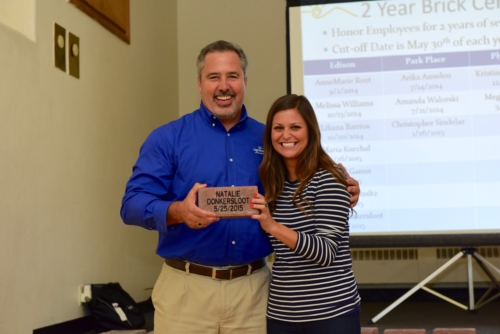 When Natalie Donkersloot was an undergrad psych student at WMU, she didn't know that one day she would be working with children with autism. In fact, Natalie thought she would end up in an organizational behavior management or industrial organizational position in a large company. That all changed when she took a class on applied behavior analysis(ABA).
When I was an undergrad, I wasn't entirely sure about what I wanted to do in psychology. So I decided to try the autism practicum. I took one of Dr. Malott's classes, Introduction to the Concepts and Principles of Behavior Analysis, and fell in love!
After getting her undergraduate degree, she began to work towards her Master's by serving as a tutor at a special education school known as Woodsedge Learning Center. While working at Woodsedge, she worked with children with autism. Natalie practiced applied behavior analysis(ABA) therapy, a core therapy that is used to treat autism.
When I worked at Woodsedge, I saw the difference that the therapy could make in the kids. I loved it. I loved the difference that it could make in just one semester.
As Natalie Donkersloot was finishing her Master's of Arts in Applied Behavior Analysis, she knew she wanted to continue to work with children doing ABA therapy. That's when she met Gregg Maggioli, the founder of Lighthouse Autism Center.
I went to a WMU Job Fair and Lighthouse had a booth. That's where I met Gregg. After our meeting, he offered me a job to start in May once I had my degree. I accepted the position.
At the time, Lighthouse Autism Center was only located in Indiana. Natalie didn't like leaving her community in Kalamazoo, but she knew that Lighthouse was the place for her.
If there had been an option like Lighthouse in Michigan, I would have worked up there. I liked how Gregg was a parent of a child with autism. Plus, Gregg seemed like a great businessman. The centers were well organized and clean. Most centers aren't like that.
After being in Indiana for awhile, Natalie was missing Kalamazoo more and more.
I was in Indiana for two and a half years and at the beginning I was open to living there. I gave it a chance and it just wasn't for me. I wanted to get back up near my friends and family. My support group. I had friends from undergrad school and friends from grad school all in Kalamazoo. I basically spent every weekend driving up to Kalamazoo because that was where my friends were.
When Gregg decided to open up a therapy center in Portage, Michigan, Natalie couldn't have been more excited.
It was perfect. I always wanted to move back to Michigan, but I really wanted to stay with Lighthouse. I asked for the opportunity to work at the Portage center almost as soon as I heard about it.
Natalie says that the therapy center is a HUGE opportunity for WMU students.
They have huge opportunity for growth and advancement. I started out as a junior program manager, got promoted to a program manager and now I am a senior program manager!
Lighthouse Autism Center isn't just for Master's of Arts in Applied Behavior Analysis, like Natalie. Lighthouse also needs students with undergraduate degrees in Psychology, Education or a related field to work as ABA therapists. ABA therapists work 1 on 1 with children to implement the actual therapy program.
Natalie spends her days working with the kiddo's at Lighthouse Autism Center and taking great pride in the work she does. She spends her evenings and weekends hanging out with her family and friends in the area. Now that Lighthouse is located in Kalamazoo, it's the perfect set up for her.
Ready for a career where you can make a difference?