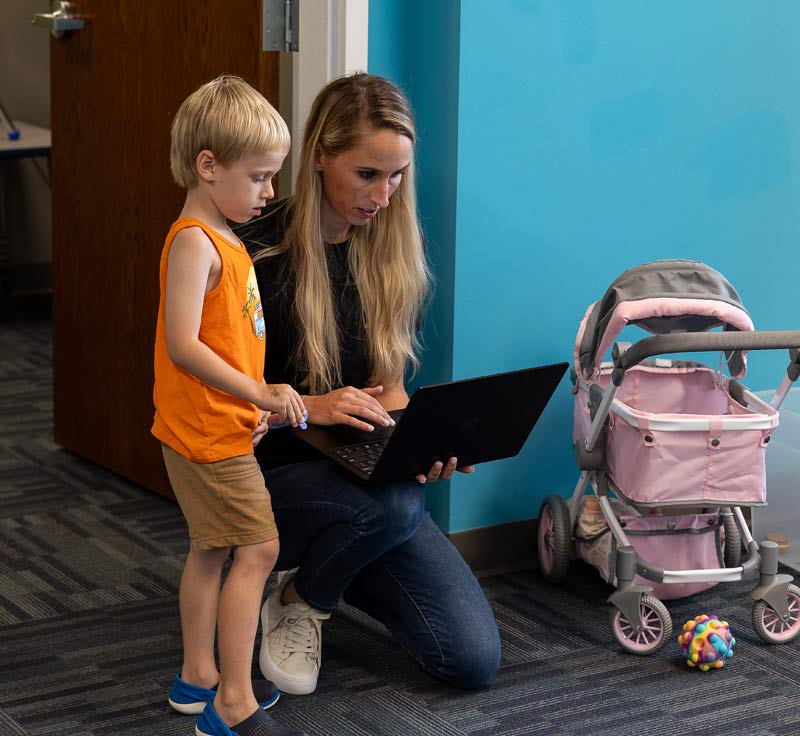 Lighthouse Autism Center is now offering a virtual parent training program to support parents of children with autism.
This program is designed to fit within a parent's busy schedule and provide support to a parent or caregiver within the comfort of their home. A parent will have the opportunity to meet with a Board Certified Behavior Analyst two or more hours per week to discuss challenges in the home and how to work through them. The BCBA will work to address the unique needs of each parent, child, and family, to build a better quality of life for the entire family. While this will look different for every family, this can include things like helping the parent to develop a strategy for toilet training, building morning or nighttime routines, giving the parent strategies to support sibling relationships, and more.
*Virtual parent training services are not currently offered in all regions.
To learn more about this unique program, please contact us.
Get in Touch
How Does This Program Work?
While Lighthouse Autism Center is a center-based ABA therapy provider, we are piloting a new Parent Training Program that will allow us to extend our impact beyond center-based therapy services. This unique program provides any child with autism and their parent/caregiver the opportunity to access customized ABA Parent Training services from the comfort of their home. Whether a family is looking to access this service while waiting for a center-based therapy opening, or a parent/caregiver simply wants more help in addressing their child's needs at home, this program can be customized to meet the needs, and schedule of any family.
All appointments are virtual. This allows the program to remain flexible to meet each family's unique scheduling needs, while still accessing the highest quality therapy from a Board Certified Behavior Analyst. Families do require consistent internet access for the session and can use any device they would like to access the telehealth appointment. All appointments are secure and HIPAA compliant.
Similar to speech therapy, OT, PT and other type of medical therapy scheduling, it's important to commit to a consistent, and regular appointment schedule. This delivers the best outcomes for the child and family and allows Lighthouse to ensure that we are able to have a member of the clinical team available to deliver therapy. Families who opt to participate in this program will be expected to attend at least 1-2 appointments each week for a period of 6 months. During that 6 month time, should a family's circumstances or schedule change, the Lighthouse Autism Center Team will do their best to accommodate the families new scheduling requirements.
The parent training program is based on medical necessity, recommendations from our clinical team, as well as insurance approval of services. For most families we anticipate this program would be available to them for a minimum of 6 months, and as long as 2 years for some families should they wish to pursue the service that long and the services continue to be clinically appropriate for the goals worked on.
Yes and no, parents should expect a mix of appointments specific to their needs and determined goals. Your child does need to be present during the initial assessment. The appointments the child should attend will be determined by you and the BCBA and will be scheduled consistently. While the goal of this program is to deliver parent training to parents and caregivers, there are times when the child will need to participate in the appointment to ensure the BCBA and caregiver are able to achieve the best possible outcomes for the child and family.
There are many different options and avenues to explore with how parent training can be applied and most effective. You will work with your BCBA to determine your families' biggest needs and priorities. Some examples are, but not limited to, responding to behaviors you would like to decrease within the home, increasing communication, increasing self-help skills, such as dressing and brushing teeth, transitioning away from preferred activities, improving interactions with siblings, and sitting at the dinner table.
You will meet with a Board Certified Behavior Analyst via telehealth. A BCBA has a master's degree in behavior analysis and is specifically trained to work with individuals who experience behavioral challenges, developmental disabilities, or have other behavioral concerns. To become a BCBA, a person must meet specific educational and experience standards including passing a national certification exam. The BCBA's who participate in our Parent Training Program are highly trained clinicians who have specific experience working with families, caregivers, and children in a home setting.
Similar to other medical appointments, Lighthouse requires 48 hours' notice of cancellation in order to allow us time to fill the appointment time that will be missed. A family can cancel up to four appointments during the 6 month period but will be charged $50 for each cancellation. No call no shows for appointments will result in termination from the program. These services are highly demanded by parents and families, and we believe it's important that each family is able to attend their scheduled appointments, as agreed upon. If families are unable to commit to a schedule at this time, we would prefer that they wait to enroll until they are able to do that, in order to provide other families, the opportunity to access these important services.
The service is covered by insurance. For those who do not have Medicaid, please consult with the Lighthouse Autism Center Insurance Department to determine any out-of-pocket expenses.
In order to enroll families will need to:
Submit a copy of their child's insurance card and diagnostic report stating they have autism spectrum disorder.
Complete and submit a client registration form.
Submit an intake form.
Complete an assessment via telehealth to determine number of hours recommended and determine a schedule that meets your family's needs.
Start services.
Together, we can unlock your child's potential