This week Executive Director, Gregg Maggioli, met with the President of Arkos Design, Jeff Anglemyer, and head of Business Development, Ramona Kauffman. As part of their 10 year celebration, Arkos Design collected donations for four local organizations – one of them being the Lighthouse Families First Foundation. With the staggering amount of children being born with autism, and his own personal connection to someone with autism, Jeff said he know that the Lighthouse Families First Foundation would be one of several organizations they would support.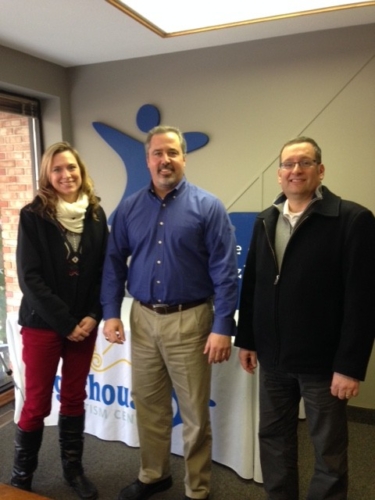 Jeff and Ramona had the opportunity to tour Lighthouse Autism Center and learn more about how exactly their donation would make a difference in the lives of special needs families, whether it would be through scholarships, communication software, special equipment, etc…
It is only through the generous donations of individuals and businesses like Arkos Design that the Lighthouse Families First Foundation is able to fulfill its mission of assisting special needs families. We would like to extend our sincerest thanks to the entire Arkos Design Team for their support!
Together, we can unlock your child's potential