Meet Lighthouse Autism Center's Staff Spotlight of the Month: Melissa.
Melissa is a Family Outreach Coordinator and has worked at Lighthouse Autism Center for 7.5 years. She began her Lighthouse journey in 2014 as a ABA Therapist/RBT before being promoted to a Senior Therapist in 2018 and now Family Outreach Coordinator for the Elkhart, Goshen and Granger centers. She graduated from Purdue University with a degree in Law and Sociology/Psychology.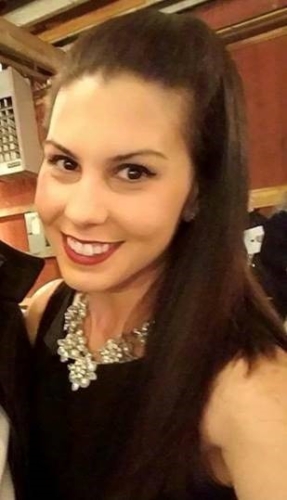 Why did you apply for a position with Lighthouse?
While being a Program Aid for PHM, I had the privilege to work with a few kiddos on spectrum. I spent much of my extra time educating myself about ASD and how I could better serve my students and their education. I was very privileged to work with a group of educators who noticed my efforts and suggest I apply to work for, "This new Autism center created by a Gregg and Sandy." I think I applied 5 or 6 times! During this time, the center was JUST starting, and job positions were hit or miss. I repeatedly dropped off my application and resume.. I think Leila got tired of me dropping off HOT PINK folders to catch her attention. I ended up leaving being a PA and started working as a Social Worker with having ASD clients as my specialty. I remember sitting in one of my school offices (AKA the storage room) and receiving an email asking me to come in for an interview… I cried. I was so happy feeling like I was finally going to work somewhere I felt like I would belong.
How would you describe your experience working for Lighthouse?
Working for Lighthouse Autism Center has been and continues to be a wonderful experience. I have a great deal of pride for who we are and what we do. The company has supported my family and I through amazing times of growth and difficult challenges. The past 2 years has spoken VOLUMES to the value LAC places on their families and employees. I feel honored to have experienced so many victories, met so many influential people I now consider my friends, and to be part of a company who encourages me to keep growing.
Do you have a favorite memory from your time here?
The memory that stands out from all my AMAZING memories comes from when I was an RBT at Edison… On her child's FIRST day at LAC, I told her that her son would have a wonderful day and not to stress because he is with people who will absolutely love him. She nervously smiled and said, "I know you guys will… I feel like we finally found our light at the end of the tunnel." What an honor, to be someone's light.
Ready for a career where you can make a difference?