Autism Signs in Infants
The Top 9 Signs Your Infant May Have Autism
We take a look at the most common autism symptoms in babies and toddlers, and the importance of getting children diagnosed as early as possible.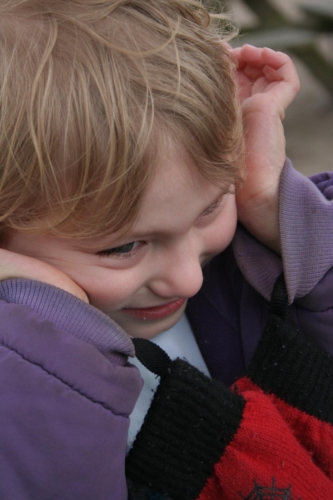 The signs and symptoms of autism are unique to every individual, and they vary in intensity from person to person. It's a difficult disorder to pick up when children are young, but an early diagnosis can significantly impact a child's quality of life and shape their development. Having an awareness of autism symptoms in babies and toddlers is critical.
Common Autism Characteristics
Although it's specific to each individual, there are some more common autism characteristics that indicate a child could be autistic.
1.) Lack of smiling
Children with autism often display a lack of smiling. Does your child smile back at you when you give them a warm, joyful smile? Does your child smile on their own? By the age of six months, your infant should be giving you big smiles or happy expressions.
2.) Rare Imitation of Social Cues
Does your child imitate the sounds and movements of others? Do they share expressions back and forth? Infrequent imitation of sounds, smiles, laughter, and facial expressions by nine months of age can be an early indicator of autism in infants.
3.) Delay in Babbling and Cooing
Missed milestones of babbling and cooing can often be a leading indicator of autism in babies. Is your child making "baby talk" and babbling or cooing? Do they do it frequently? Your baby should typically reach this milestone by 12 months.
4.) Unresponsiveness to Name
Is your baby increasingly unresponsive to their name from 6 to 12 months of age? Parents who see this in their child are often concerned it may be hearing loss and are unaware it can be a sign of autism in babies. If you see this behavior in your child, be sure to monitor the signs and consult a doctor. Knowing the signs can be the key to early intervention and getting your child the resources they need to reach better outcomes and live a more independent life in the future.
5.) Poor Eye Contact
Lack of eye contact is a very common sign in those with an autism diagnosis. Does your child make limited eye contact with you and other loved ones? Do they follow objects visually? Severe lack of eye contact as the baby grows can be an early indicator, as it is a form of communication and comprehension.
6.) Infrequently Seeking Attention
Does your child initiate cuddling or make noises to get your attention? Do they reach up toward you to be picked up? Disinterest in seeking a loved one's attention or bonding with a caregiver is a sign your baby may eventually have difficulty relating to others, which can be a struggle for those on the autism spectrum as they grow up.
7.) Lack of Gesturing
Does your child gesture at objects or people to communicate? Do they wave goodbye, point, or reach for things? This is a milestone that is typically reached by the time an infant is 9 or 10 months old. Lack of gesturing is a common sign in infants on the autism spectrum.
8.) Repetitive Behaviors
Repetitive behaviors are another highly recognized sign in children with autism. Does your child engage in repetitive behaviors such as stiffening their arms, hands, or legs? Do they display unusual body movements like rotating their hands on their wrists? Do they sit or stand in uncommon postures? This is a form of stimming or self-stimulatory behavior.
9.) Delayed Motor Development
Has your child experienced significant delays in motor development milestones, such as rolling over, pushing themselves up, and crawling? These could be signs of autism in newborns, but they may not be recognized as autism until much later. Early symptoms of autism in babies or toddlers often go unrecognized by parents or caregivers and are often put down as the child simply being a slow learner.
Why It's Important to Recognize the Signs of Autism in Infants
One of the most important things you can do for your child after birth is to learn the early signs of the autism spectrum. While most children will start to develop symptoms as newborns, many are only diagnosed when they display the common symptoms of autism in toddlers.
Getting your child diagnosed as early as possible is the best decision you can make. Firstly, you could get peace of mind if the medical doctor tells you that what you are seeing are signs your baby is not autistic. If they do diagnose autism when your child is an infant, you'll receive the following benefits:
Improved overall development:

As parents, our single goal is to ensure our children's lives are as easy and enjoyable as possible. The same goes for parents of children with autism spectrum disorder (ASD). The bottom line is that infants who receive autism treatment, support, and education at appropriate ages and key developmental stages are far more likely to gain the essential social and reasoning skills needed in society.

Diminished distress:

Imagine a child at school who can't talk to their classmates, finds it hard to make friends, gets frustrated at not being able to communicate what they want, and is great at math but can't articulate that. Undiagnosed autistic children become incredibly distressed in social settings; they don't know what's wrong with them, and parents and teachers think they are just acting out. An early diagnosis can diminish this distress hugely.

Early understanding and acceptance:

For parents, it can be hard to understand their child and accept that they are autistic, and it certainly takes time to get used to a new way of life. Getting your child diagnosed early means that you have more time to understand and accept their disorder and to become an advocate for awareness.
The Type of Therapy to Expect at the Lighthouse Autism Center
At the Lighthouse Autism Center, we use a unique approach to ABA therapy called Lighthouse Fusion™. This is a unique program for children on the autism spectrum fuses together ABA and speech therapy and helps children make greater progress, faster. ABA therapy helps children with autism develop new skills, as well as improve the skills that they already have and decrease problem behaviors.
Our therapy programs are tailored to each individual child, and achievable goals are set out for the child to strive for in different areas of skill. Some skills include:
Communication (including speech and language skills)

Social skills

Improve attention, focus, and memory

Decrease problem behaviors

Self-care (such as showering and using the bathroom)

Play and leisure

Motor skills

Learning and academic skills.
ABA therapy is based on positive reinforcement, and it brings together a number of different disciplines to ensure that each child gets the greatest chance of becoming the best version of themselves.
Contact us at the Lighthouse Autism Center if you want to know more about our treatment programs, and we can create a custom therapy program for your child.
Together, we can unlock your child's potential