What is Autism?
Autism, as defined by the Autism Society of America, "is a complex developmental disability that typically appears during the first three years of life and affects a person's ability to communicate and interact with others. Autism is defined by a certain set of behaviors and is a "spectrum disorder" that affects individuals differently and to varying degrees. Symptoms and signs of Autism generally emerge between 24 and 36 months of age. There is no known single cause of autism…"
Autism and Autism Spectrum Disorder (ASD) are general terms used for grouping complex disorders of brain development. These developmental disorders are characterized in different degrees by:
Social interaction difficulties
Nonverbal and verbal communication difficulties
Repetitive behaviors
Developmental disabilities characterized by these disabilities include:
Rett syndrome
Autistic disorder
Pervasive developmental disorder- not otherwise specified (PDD-NOS)
Childhood disintegrative disorder
Asperger syndrome
ASD can be associated with difficulties in motor coordination, intellectual disability, difficulties in attention and physical health issues such as GI disturbances and sleep. There are some persons with Autism Spectrum disorder that excel in art, math, music and visual skills.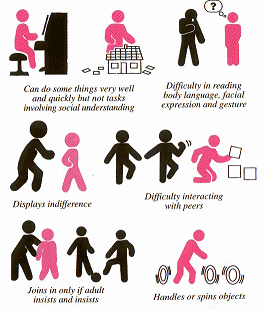 Early Signs of Autism
One of the most important things you can do for your child is to learn the early signs of Autism. It is important that you are familiar with typical developmental milestones your child should be reaching as well. Here are a few "red flags" that may indicate your child is at risk for ASD.
No warm or joyful expressions by 6 months of age or after
Lack of back and forth sharing of smiles, sounds and other facial expressions by 9 months of age
No babbling by 1 year of age
Lack of back and forth gestures such as showing, pointing, waving or reaching by 1 year of age
No words by 16 months of age
Lack of meaningful, two word phrases by 24 months (this doesn't include repeating or imitating)
Any loss of babbling, speech or social skills at any age
Should your child exhibit any of these red flags do not hesitate on calling your medical provider to have your child evaluated. Early intervention is best.
There is also the Modified Checklist for Autism in Toddlers that you can take online to help you determine if your child should be evaluated by your medical provider.
How Common Is Autism?
According to the U.S. Center for Disease Control and Prevention, CDC, 1 in 88 children in America are on the Autism Spectrum, this more than 10 times the number of children just 40 years ago. Extensive research shows that the increase is only partly due to better diagnostic tools and education on the disorder. Research also shows that Autism is 4 to 5 times more common amongst boys than girls. There is an estimated 1 out of 54 boys and 1 out of 252 girls that are diagnosed with Autism in the United States.
To compare Autism to other disorders and conditions effecting children, every year more children are diagnosed with autism than AIDS, cancer and juvenile diabetes combined. Autism Spectrum Disorder affects more than 2 million people in the United States and tens of millions all over the world.
What Causes Autism?
We know that there is no one cause for Autism and there is no one type of Autism. In the last five years scientists have been able to identify a number of rare gene changes or mutations of genes that have been associated with autism. A small number of these gene mutations are sufficient to cause autism. However, most cases of autism are a culmination of genes and environmental factors that influence early brain development.
With a genetic predisposition for autism, there are a number of non-genetic or environmental influences that increase a child's risk for autism. Most of the clearest evidence of these environmental risk factors involve events that take place before and during birth. These factors include:
Advance age of parents at conception (both mom and dad)
Maternal health during pregnancy
Certain difficulties during birth (specifically any period of oxygen deprivation to baby
It is very important that any of these environmental factors alone are not going to cause autism. It is the combination of these factors with genetics.
There is a strong body of research that suggests a woman can decrease the risk of her child having autism by taking prenatal vitamins during pregnancy that contain folic acid or by eating a diet high in folic acid during the months prior to and after conception.
Being "On the Spectrum"
Autism doesn't affect any two people the same. Every case of autism is unique to the person that has the diagnosis. Yes there are similarities that make it a diagnosis of Autism over another disorder. Many people with autism have exceptional abilities in music, academic or visual skills. Roughly 40% of those diagnosed with autism have above average intellectual abilities. There are many people that are on the autism spectrum that take pride in their different abilities and "atypical" way of seeing the world.
Others with autism have significant disability and are not able to live on their own. Twenty five percent of those with ASD are not able to communicate verbally but can or have learned other ways to communicate.