Lighthouse Roots – The Story of Ginny
In May of 2022, Lighthouse Autism Center is celebrating 10 years of business. This would not be possible without our clients. These families were some of the first families to receive services at Lighthouse Autism Center and helped build a strong foundation. We would not be where we are today without them! Thank you for choosing Lighthouse Autism Center and for trusting us to provide compassionate care and for being a part of our story.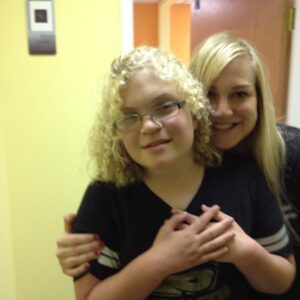 About Ginny
Ginny attended Lighthouse Autism Center Park Place and Edison Lakes between 2012 and 2017. She was 12 years old when she first enrolled.
Ginny's Lighthouse Journey
Tell us about your favorite memory from your child's time at Lighthouse Autism Center.
How happy she was to go to Lighthouse and see all her friends and therapists. We (Ginny) still sees and interacts with a couple therapists and friends she made at Lighthouse.
Tell us something your child does or is independent with now that you attribute to their time at Lighthouse Autism Center.
Ginny is able to put on her socks and shoes with minimal help, she can brush her teeth without much help and apply deodorant. She can put on her coat and her shirts. And she can undress completely by herself. She uses utensils and can pour a drink (most of the time). She can complete simple puzzles and color. She will swing independently on her swing set, enjoys walking on the treadmill and of course she enjoys a good 'dance party'!
How did Lighthouse help your family and child reach their goals?
Ginny grew in ways we didn't think would be possible. Lighthouse Autism Center gave us the support we needed to help Ginny be as successful as possible. We are so grateful that Lighthouse was a part of our lives and our daughter's life. LAC is truly a game changer. A dream would be an LAC for adults – adult day services.
What advice would you give prospective parents who are considering Lighthouse Autism Center for their child?
Trust the BCBA's and RBT's they know what they are doing, and they have your child's best interest in mind. Follow through with what they are doing at the center at home as much as you possibly can. Have them partner with your child's school and be a strong advocate for your child. You won't know what your child is capable of if you do not try different tasks/skills.
At LAC, we are seeing incredible progress made by our learners every day.