Meet Janine Shapiro, M.S., CCC SLP-BCBA
Meet Janine Shapiro: Director of Lighthouse Fusion™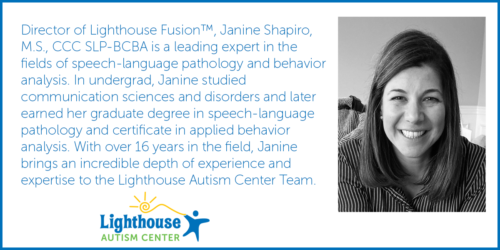 What made you decide on a career in therapy?
I have two younger siblings who presented with developmental speech disorders. I grew up in clinical waiting rooms! My parents had enormous respect and gratitude towards my brothers' speech therapist; she was a hero in our house!
What inspires/drives you?
I'm inspired by the progress I see each day. I am driven to create new techniques- Fusion procedures- that produce results parents and other practitioners never dreamed possible.
What is your favorite part of your job?
Working alongside and collaborating with some truly brilliant speech and behavior analytic clinicians. I look forward to going to the office each day. I'm passionate about my career, which I don't view as work. I'm extraordinarily lucky.
How has this career path impacted you?
I do not take anything for granted. I live a very grateful life. I'm most thankful for the families who trust me to give their children a voice.
What advice would you give to those seeking a Similar career path?
When offered an opportunity to learn, raise your hand! Add as many techniques to your toolbox as possible; each one will one day bring a learner a step closer to better communication and a more independent life. Seek out great mentors.
To learn more about Lighthouse Fusion™,
click here
.
Ready for a career where you can make a difference?