Developmental Preschool vs. ABA – Lighthouse Autism Center
When it comes to your child's education and development, therapeutic preschool programs and ABA therapy are both valuable approaches. Read on to discover the key elements of both programs, how to adapt your child's schedule to suit their needs and the benefits of combining various approaches.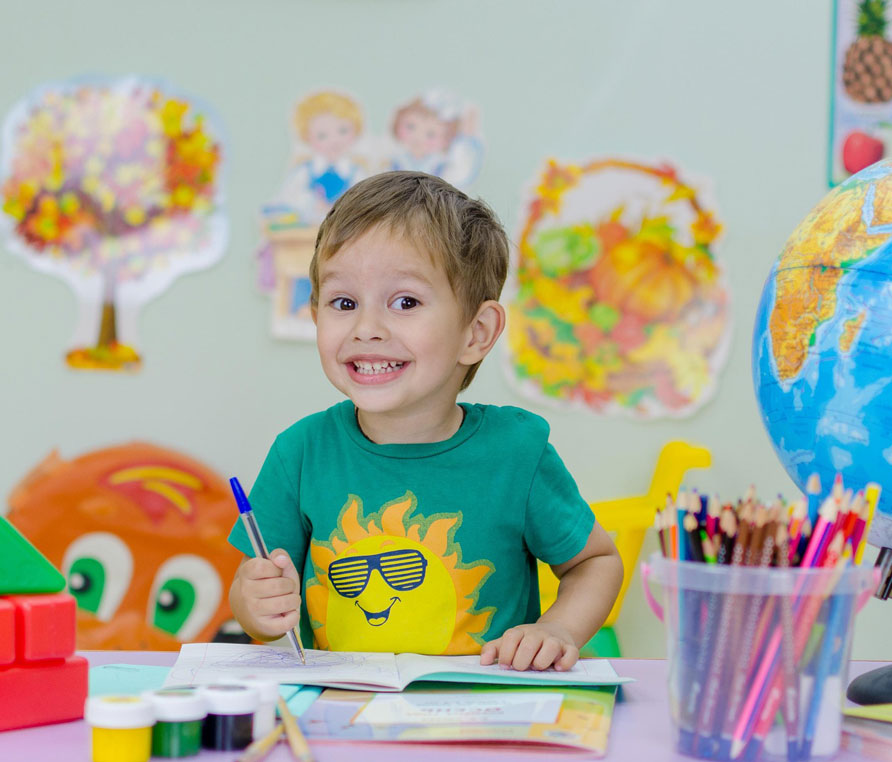 Developmental Preschool vs. ABA Therapy
Whether it involves making cherished artworks or new friends, preschool is an exciting (and sometimes scary) time for children and parents alike. When your autistic child reaches preschool age, you'll need to consider the different available schools for kids with autism spectrum disorder (ASD). Certain developmental goals for preschoolers need to be factored in and ABA therapy, occupational therapy and speech therapy all play a vital role in helping your child develop the necessary skills to be able to reach their full potential.
In this blog, we explore the main differences between school-based and center-based learning and development programs in order to help you decide on the best course of action for your child.
ABA treatment programs
Applied Behaviour Analysis (ABA) is an evidence-based therapy that has proven to be an effective and reliable method for developing and improving social, language and communication, learning, and daily-living skills in autistic children. It consists of two major treatment methods: discrete trial training (DTT) and natural environment training (NET). DTT teaches target behaviors through simplified and structured steps (similar to a typical classroom setting), while NET focuses on learning through play and social interactions.
As part of an ABA treatment program, a therapist will evaluate your child's skills, abilities, and challenges. They will then tailor an individualized program designed to maximize overall development and skill acquisition, while at the same time decreasing problematic forms of behavior that impede learning. Another component of this intensive therapy is parent training, which has been found invaluable by parents who want to learn how to better engage, teach and support their child.
While this is undoubtedly one of the most effective special education options for children with autism, working 1:1 with a therapist may not provide educational opportunities associated with a classroom setting.
Preschool programs for children with disabilities (PPCD)
PPCD are typically offered in the classroom of a public school under the supervision of a special education teacher and two educational associates. Classes usually consist of at most 12 children who have a variety of special needs, ranging from moderate to severe. During classes, children work on appropriate activities designed to develop and improve language, social, cognitive and self-help skills.
This type of setting is highly conducive for socio-emotional development and affords children an opportunity to learn how to socialize with peers. When considering this approach it is important to keep two things in mind. First, that the setting must enable the child to catch up developmentally and second, that there will be limitations to the level of expertise of staff members compared to specially-trained therapists. Additionally, school-based programs alone do not allow for the frequency or intensity of training and supervision essential for quality programming, which may make the addition of more intensive forms of therapy necessary in order to achieve appropriate preschool developmental milestones.
Combining ABA and preschool
It should be clear, then, that both ABA therapy and PPCD can play a vital role in the development of autistic children. Which learning environment is best for your child will depend on their skill levels, needs and a number of other factors. In many cases, a combination of the two approaches can be successful. This may mean focusing on ABA treatment first, for one or two years before transitioning into preschool or even incorporating ABA into your preschool schedule by choosing a part-time preschool schedule followed by part-time ABA sessions.
The Lighthouse Fusion® approach
Fortunately, ABA therapy can be tailored to fit a wide range of autistic children's needs, making it easy to work into a therapeutic preschool program. To make things even easier, Lighthouse Fusion ABA therapy introduces an innovative approach that combines ABA and speech therapy into one enhanced therapy solution. Our team of Board Certified Behavior Analysts and Speech-Language Pathologists work collaboratively with your child's BCBA and RBT to incorporate speech therapy directly into daily ABA programs. So, rather than receiving 30 minutes of speech training a week, your child will benefit from daily opportunities for speech development, ultimately leading to better outcomes for your child.
Discover more helpful autism resources from Lighthouse Autism Center.
What are Lighthouse Learning Programs?
At Lighthouse Autism Center, we offer center-based ABA therapy in a natural, play-based environment. Following an assessment, a program is developed specifically to target each child's unique needs. With our Early Learner Program and Junior Learner Program, we incorporate many of the academic skills a child would be taught in a typical school setting, such as reading, math, group classes, peer play and more.
Early Learner Program
Generally, this program supports learners between 18 months and 6 years of age and focuses on learning through play. The skills learners acquire through this program will provide the building blocks required for them to generalize what they have learned across different subjects and environments. In the Early Learner Program, children focus on:
Fine and gross motor skills
Letters, numbers, and colors
2D shapes
Name and age
Listening skills and following directions
Children develop new words through song, music, and reading
Days of the week, months of the year, the weather, seasons, and more
Children participate in group classes like art, music, and gym
Junior Learner Program
Typically, this program includes learners 7 years and older and follows a similar structure to what a learner would see in a school setting. As the learner progresses through the program, they spend less time learning while playing, and more time learning from an educator while sitting at a desk or in a group setting, similar to what the learner would experience at school. In the Junior Learner Program, children focus on:
Reading development and comprehension at the appropriate level for the child
Basic math skills at an appropriate level for the child (addition, subtraction)
Life skills like folding laundry, hanging clothes, sweeping and vacuuming, etc.
Social skills including peer-to-peer interactions in a group setting
School Readiness at Lighthouse
Interacting in a Classroom
Playing with Peers
Listening and Following Directions
Participating in Group Classes
Fine and Gross Motor Skills
Eating in a Cafeteria-Style Lunch Room
Together, we can unlock your child's potential