Autism and Your Family
Autism impacts the entire family and the family plays an important role in helping the child with autism succeed. It is important to acknowledge and deal with how various family members feel about a child or sibling having Autism and to educate them on what exactly that means for the child and the family.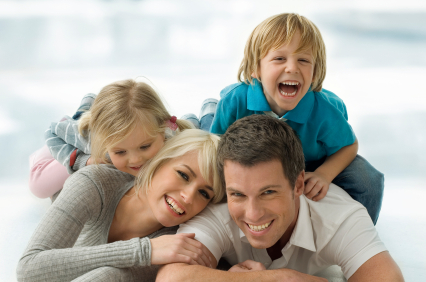 Siblings
There are a wide range of emotions that siblings will feel related to their brother or sister having autism. It can be difficult when their brother or sister does not want to play with them, has outbursts or demands a great deal of time from mom and dad. Children are very perceptive and even at a young age can sense that their sibling is different. They may be afraid to ask what is wrong with their sister or brother. They may get jealous of the time their sister or brother is getting from you and this can cause them to act out. So what can you do?
It is recommended that siblings be given age appropriate explanations about Autism and the challenges that come along with it. Do your best to make it an open and ongoing dialogue.
Encourage siblings to talk about the way they feel. Be compassionate and patient with them. You may also want to look for sibling support groups or talk to your certified ABA therapist.
Allow siblings to talk to the ABA therapist about appropriate play and ways to interact with their sister or brother. They can be excellent sources of positive role models during therapy for appropriate social interaction skills. This will help siblings feel included as well as help them feel that they are helping their sister or brother.
Don't turn siblings into "little parents." It is okay for them to help, but don't put them in a role of being overly responsible for their sister or brother with autism. This can cause resentment towards their brother or sister as well as towards you.
Create "dates" with siblings. Giving them alone time with you or your partner is important. This can be as simple as reading them a bedtime story or taking one child with you to run errands. The activity is not what is important, it is the fact that you are spending alone time with just them, listening to them, giving them attention.
There may be times that you want to plan family activities that do not include your child with autism. Understand that this is okay. Families that do not have children with ASD don't generally do everything together and your child with ASD may be more comfortable at home with a caregiver. Talk to your ABA therapist about integrating your child into family activities.
Your Partner
Generally, in most families the focus is on the kids, and when you have a child with special needs that focus is even greater. Days, weeks can go by where you don't even think about your partner or ask how they are doing. The added stress of trying to find treatment centers, figuring out how you are going to pay for that treatment and dealing with the behaviors of your child are demanding and can be all consuming. Just as you need to make "date" time with your other children, you and your partner also need "date" time. Even if it is just a cup of coffee in the morning, or 5 minutes of sitting together at the end of the day you need to make time for one another to keep your relationship strong.
Respect your partner's feelings. Everyone deals with the diagnosis of autism differently. You may be further along or not as far along in the coping process as your partner.
Take time to nurture your partner as well as yourself. Don't take your partner for granted, make an effort to listen to your partner and show them affection. A hug only takes a second but can have a profound impact.
Allow your partner to be involved. It is normal for one partner to carry more of the burden than the other; this can lead to resentment on both sides. Talk to your partner and ask them to share in the responsibility. If you are the partner wanting to get more involved, talk to your partner and tell them what you would like to do.
Make a date, even if it is once a month, set time aside where it is just about you and your partner. Promise to talk about something other than your children or autism. Focus on the two of you.
You
You can't take care of anyone if you don't take care of yourself. Eat right, get rest and do something that nurtures you. It does not have to be something huge but it does need to give you an emotional and physical boost.
Manage expectations and shift priorities. You don't have to do everything. If the house isn't spotless or you can't be the PTO president… it's okay. Focus on things that are most important for your family.
Think about joining a support group or an online forum so that you can deal with the emotions you have on the backburner.
Family and Friends
Educate, educate, educate. Send them to Lighthouse Autism Center's website or other information websites. Let them know what you and your family is going through. Help them understand what your child with autism needs. Your family wants to be there for you, but they may not know how to be. You have to tell them what you need. It can be as simple as asking them to cook a meal for you, babysit for 45 minutes so that you can take a bubble bath or even run an errand for you.