What Is a Co-Treat Session?
Explore co-treatment with ABA, speech, and occupational therapists for comprehensive care, improved communication, and effective outcomes in children.
What Is a Co-Treat Session and How Does It Benefit Your Child?
ABA (Applied Behavior Analysis) therapy programs are designed by a Board Certified Behavior Analyst (BCBA) and implemented by a Registered Behavior Technician (RBT) to address behavior-related goals in autistic children. Traditional ABA therapy models are offered in a silo and are not often combined with other therapies, such as speech therapy.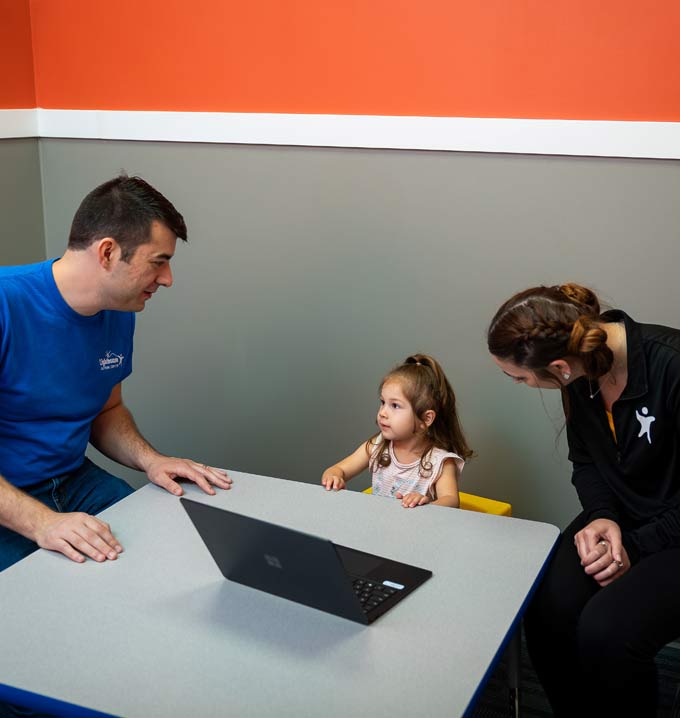 At Lighthouse Autism Center, we have designed and created the Lighthouse Fusion® Therapy model, which focuses on the whole child approach to learning. It is a co-treatment model that has seen exceptional results in all of our learners.  
So, what is collaborative treatment, and how can the Lighthouse Fusion Therapy model benefit your child? Let's take a look.
What is co-treatment?
As mentioned, most traditional therapy models are implemented separately for autistic children. However, many children diagnosed with Autism Spectrum Disorder have a number of co-existing diagnoses and symptoms across a wide variety of developmental areas.
Autistic children often struggle with communication difficulties, and many have trouble with sensory processing. Instead of focusing on either ABA therapy or speech therapy in a single session, we use a one-of-a-kind treatment approach that involves ABA and speech or occupational (sometimes both!) in collaboration.
Every co-treatment session is attended by a BCBA, RBT, and an SLP (Speech Language Pathologist) or OT (Occupational Therapist) who collaborate to work toward each child's speech, language, communication, and behavioral goals.
These collaborative therapy techniques focus on the whole child approach.
What is the Whole Child Approach?
Traditionally, trained therapists would work on separate areas of development in different sessions; for instance, speech therapists focus only on speech and so on. However, the theory of a whole child approach challenges the separation of therapy and instead focuses on investigating and addressing all the areas that impact autistic children as a whole.
This includes, but isn't limited to, behavior, sensory and motor skills, sleep, diet, communication, emotional regulation, mental health, medication, and much more. It's a collaborative approach that looks at autistic intervention in a "whole child" manner rather than focusing on a few separate issues.
How co-treatment at LAC can benefit your child
At Lighthouse Autism Center, we have seen some incredible results through our Lighthouse Fusion Therapy model. Here is how it can benefit your child.
Addresses multiple needs simultaneously
One of the main benefits of this multi-disciplinary approach is that it addresses a number of different needs and goals in single sessions. In traditional approaches, learners may only get 30 minutes of speech therapy a week, requiring them to leave an ABA program or classroom setting . With co-treatment, learners can work on their speech and communication skills while addressing other ABA based outcomes. Speech prompts and cues are incorporated into sessions which expose children to more speech therapy than they would normally get in a traditional therapy model.
Keeps children stimulated throughout a session
Many autistic children can struggle to sit through a dedicated speech or OT therapy session and are more likely to respond to sensory or motor activity sessions. They simply find these activities more stimulating.
Co-treatment allows children to get adequate exposure to speech and/or OT therapy during their sessions by breaking up motor activity or sensory lessons with small speech and communication treatments within the session.
Better communication between therapists
As with any industry, collaboration is key for the best outcome. Companies whose employees work in a silo are less likely to generate solid ideas or create a conducive working environment. By having a number of therapists present during your child's session, they will be able to work together to identify where your child is thriving and where they might need to do more work. Together, this collaboration is much more effective for your child's progression.
Therapists who are collaborating will be able to design and provide a more coordinated, comprehensive treatment plan to reach your child's goals.
Creates a general environment for them to practice all their skills
Many autistic children can be averse to deviations from their own daily routines, which means that they reserve their communication skills for their speech therapy sessions while working on their other skills during ABA therapy. This can make it difficult to implement their skills in real-life situations all at the same time.
Co-treatment creates a generalized environment for your child where they are encouraged to use a variety of skills that they are learning in different contexts. This means that they are not compartmentalizing when they should use each skill and instead are learning that they can apply them to a whole range of scenarios. This simply translates much better into environments that they are likely to encounter in real life.
They learn while having fun
The best thing about the co-treatment model at Lighthouse Autism Center is that we see our learners getting exceptional results and taking steps toward their goals, all while smiling and enjoying themselves.

At LAC, our learners get to explore their interests naturally, have exciting sensory experiences, and practice language through play. We know children learn best when they are having fun, and this is obvious in how our sessions are structured.
Get the best for your child with LAC
At LAC, we believe that we have found the perfect combination of therapies to get the best results for our learners. The collaboration of therapists between disciplines enables us to help your child move toward their goals faster and more effectively.
Our co-treatment sessions, along with the vast archives of autism resources, put us in the best position for your child to take the next step in their treatment.
Together, we can unlock your child's potential