The "Proof is in the Paddington"
Autism Success Stories: The "Proof is in the Paddington"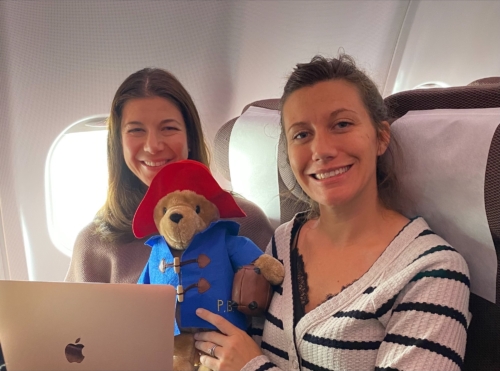 This week, Lighthouse Fusion Director, Janine Shapiro, CCC-SLP/BCBA, and Lighthouse Board Certified Behavior Analyst, Jessica McCuen, traveled to London. Tourist sightseeing, international cuisine, and West End shows were not on the itinerary. Instead, the focus was Hannah*, a doe-eyed, 5-year-old girl with autism secondary to a very rare genetic condition. In short, Hannah represents another Lighthouse success story, but she also serves as the inspiration and proof of concept for the entire Lighthouse Fusion approach to integrated ABA and speech-language therapy.
A Video Gives Hope
In 2019, Access Behavior Analysis (which has since been acquired by Lighthouse Autism Center) created a video documenting the speech development of a female toddler in Indianapolis with a rare genetic condition. Given the severity of communication deficits of most individuals with this disorder, this young girl's gains proved shocking to her family and professionals in the medical community. The video highlighted the benefits of an integrated ABA and speech-language approach with the goal of providing hope to families traveling the same uncharted road. Not long after the video posted, Hannah's mother stumbled across it, recognized similarities between the child featured and her own, and reached out to the dually certified practitioners with a plea for help.
Virtual Therapy Success
Local client and family obligations precluded an immediate trip to London, so Jessica and Janine scheduled a virtual intake via Skype. Hannah initially presented with very few sounds and never produced them in an imitative context. Jessica and Janine virtually coached Hannah's mom how to leverage the principles of behavior in combination with speech prompting techniques to teach Hannah to imitate a variety of sounds. Six months following the first email, Janine and Jessica finally met Hannah in person. By the end of the three-day international consultation, Hannah was producing a variety of vocal words to request her favorite items and activities. Here again was a child given a very low likelihood of ever developing more than a few vocal words defying the odds with behavioral speech techniques, and this time, most targets were achieved virtually! Janine and Jessica left promising to return soon, but just a few months later, the world shut down. Virtual sessions resumed and progress continued.
Lighthouse Fusion™
Meanwhile, Lighthouse Autism Center wanted to offer all of its learners the opportunity to benefit from therapy with practitioners who were dually certified as speech-language pathologists and Board Certified Behavior Analysts. Often referred to as "unicorns" these practitioners are as effective as they are rare. Lighthouse also envisioned a more collaborative model with its BCBAs and SLPs working together with the learners, rather than simply housing speech and ABA under the same roof. The experience with Hannah demonstrated the power of behavioral speech strategies within a virtual format. Though instead of a parent taking direction, Lighthouse's talented BCBAs develop objectives and implement therapy alongside the speech-language pathologist. This is the Lighthouse Fusion approach to ABA therapy, and it takes place every day at every Lighthouse Autism Center.
Janine, Jessica, (and Paddington) returned from their second trip to London thrilled with Hannah's progress and energized for the week's Lighthouse Fusion co-treatment sessions with learners in Indiana, Michigan and Illinois. Lighthouse practitioners will soon be packing their bags again, this time for Ireland, where they will share Lighthouse Fusion techniques at an international ABA conference. As Janine and Jessica joked on the flight home from London, the proof was "in the Paddington!"
* Name has been changed for privacy.