Meet Emily Lourash – The Compassion Behind Our Care
Get to know the Compassionate Team of Clinical Experts at Lighthouse Autism Center
Emily Lourash's Lighthouse Story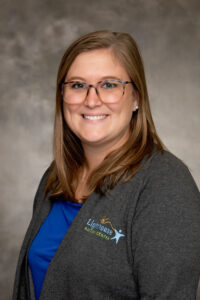 Emily Lourash is a speech-language pathologist at Lighthouse Autism Center. She has a bachelor's degree and master's degree in speech-language pathology, both from Indiana State University. She has been in practice for six years. Emily recently enrolled at the Florida Institute of Technology (FIT) in May 2022 to pursue her master's in behavior analysis. She will join the team of three other dually certified SLP-BCBAs at Lighthouse Autism Center.
What made you decide on a career in therapy?
My youngest brother has DiGeorge Syndrome, and we always went to therapy with him during the summer. I loved helping him with his speech therapy homework!
What inspires/drives you?
Providing an effective way for children to communicate their wants and needs.
What is your favorite part of your job?
Watching the progress and seeing the therapists, BCBA's, and family's face light up when their client/child has learned a new sound or way to communicate effectively.
How has this career path impacted you?
It has made me more empathetic in public when I see anyone with a disability.
What advice would you give to those seeking a Similar career path?
Stick with it! The classes are difficult, but the career is SO rewarding; no matter what span of life you are working with!
Why Lighthouse Autism Center?
I love the employees and the care they provide for all of the learners and families!
What is your favorite part about Lighthouse Autism Center?
My favorite part about Lighthouse is the way they care for their staff and the clients!
What Lighthouse Autism Center value to you identify most with?
"Judge people by more than their metrics" because there is much more to people than their stats, scores, diagnoses, and behaviors we see upon initially meeting.
What is a fun/unique fact about you?
My husband drag races so we spend majority of our summers at the race track!
Ready for a career where you can make a difference?