Meet Ashley Whitaker – The Compassion Behind Our Care
Get to know the Compassionate Team of Clinical Experts at Lighthouse Autism Center
Ashley Tells Us About Her Time Working At Lighthouse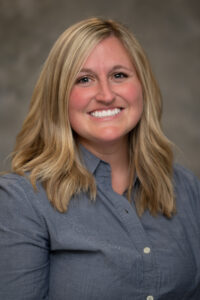 Ashley Whitaker is a dually certified speech-language pathologist and Board Certified Behavior Analyst at Lighthouse Autism Center. She has a master's degree in speech-language pathology and a master's degree in applied behavior analysis. She has been in practice for nine years.
What made you decide on a career in therapy?
I always knew that I wanted to teach, but I didn't know in what way. I loved the personalization I saw in speech therapy and ABA therapy and knew that I wanted to help make an impact in the lives of children and families.
What inspires/drives you?
The success of our learners and our families that support our learners every day.
What is your favorite part of your job?
Watching our learners have success!
How has this career path impacted you?
This career path inspires me daily to be better and do better for our learners and their families. It pushes me to think outside of the box to come up with interventions to make significant change.
What advice would you give to those seeking a Similar career path?
Ask questions and don't be afraid to learn something new!
Why Lighthouse Autism Center?
Lighthouse's commitment to families is inspiring.
What is your favorite part about Lighthouse Autism Center?
Commitment to the happiness of families and staff.
What Lighthouse Autism Center value to you identify most with?
Care about people more than anything.
What is a fun/unique fact about you?
I've walked the red carpet at the Emmy's before!
Ready for a career where you can make a difference?