Setting a Strong Foundation, the Lighthouse Way – Meet Sean Addley
Meet Sean Addley
In May of 2022, Lighthouse Autism Center is celebrating 10 years of business. This would not be possible without our tenured staff. These individuals helped build a strong foundation for Lighthouse Autism Center and continue to bring compassion and expertise every day! They have paved a path for an inspiring future of endless growth and possibilities. They have brought hope into our communities and homes. They have unlocked a world of unlimited potential. Thank you for being such a significant piece to our puzzle and for embracing Lighthouse Autism Center's core values every day!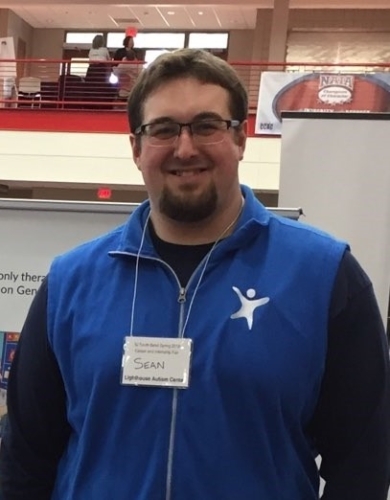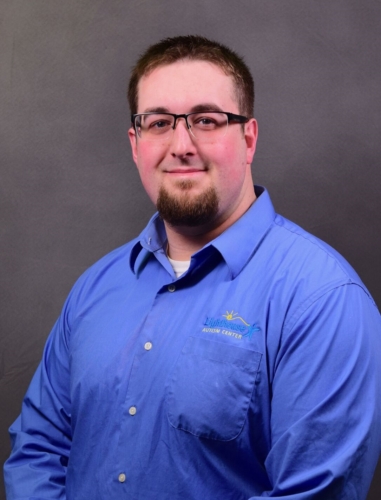 Sean's Lighthouse Story
Sean is a Training Systems Manager at Lighthouse Autism Center in South Bend. His journey started as a Registered Behavior Therapist, then a Senior Therapist, followed by a Clinical Administrator. Sean is a movie fanatic and can recite an abundance of movie lines and song lyrics form memory. Sean's favorite color is green, and his favorite animal is a polar bear with the commonality of enjoyment for sleeping in cold spaces. He loves cheeseburgers with a fried egg. Some of Sean's favorite activities are tailgating and cornhole.
Life Before Lighthouse:
What was your career background/experience before Lighthouse Autism Center?
Before coming to Lighthouse Autism Center, I was a teacher and football coach.
Lighthouse Journey:
Why did you originally apply at Lighthouse Autism Center?
A close friend of mine (who was a BCBA at Lighthouse) told me I would be really good at it, and I should check out Lighthouse. I am an education major, so I thought this was a great opportunity to gain experience during the summer when schools are closed. Once I got here, I knew this was something special and I wanted to be a part of it.
What is your favorite memory at Lighthouse?
There are too many memories to choose just one as my favorite, but I will share a funny one! I was a Senior therapist at the time, and one of the kids in my pod was getting upset. When that happens, he typically flopped out of his chair and on to the floor. I saw this coming and positioned myself so if he slid off his chair he would slide onto my knee, and I could keep him from falling on the floor. This also happened to be the ONLY time I ever wore khaki pants to work instead of jeans. So, when I knelt, the inner seems of my pants tore wide open! The therapist I was assisting with the behavior busted out laughing, and the giggles continued down the hallways as word spread as fast and wide as the hole in my pants. What do you think I did? Taped it up. Keep me in the game, coach!
How has Lighthouse impacted you personally?
Everything is on its way to somewhere, and I'm very lucky that my path in life crossed with LAC's vision and values.
What is your favorite part about working at Lighthouse?
I believe that it's not just about the work you are doing, but the people you are working with. The people who are here at Lighthouse, are here because they want to make a difference and be part of something that is bigger than themselves.
What does Lighthouse mean to you?
Everything is on its way to somewhere, and I'm very lucky that my path in life crossed with LAC's vision and values.
Which of the LAC Values do you most identify with?
I can relate to all our values, but 4. Put a premium on innovation and creativity, is the one I most identify with. That's just how my brain works, "what can I do to make this better/easier." Not all my ideas were great ones, but all of them were accepted and encouraged.
What is your favorite change/improvement you have experienced in your time at Lighthouse?
Going digital! Getting rid of paper data and other wasteful paper processes.
What advice would you give to prospective or new employees?
You have an incredible opportunity before you! You will learn fundamentals of human behavior that you will remember for the rest of your life. You will work with some of the kindest, most caring people you've ever come in contact with. Most importantly, if you want to make a difference in a child's life, Lighthouse is where you can have an impact every day.
Ready for a career where you can make a difference?