Setting a Strong Foundation, the Lighthouse Way – Meet Maggie Gendel
Meet Maggie Gendel
In May of 2022, Lighthouse Autism Center is celebrating 10 years of business. This would not be possible without our tenured staff. These individuals helped build a strong foundation for Lighthouse Autism Center and continue to bring compassion and expertise every day! They have paved a path for an inspiring future of endless growth and possibilities. They have brought hope into our communities and homes. They have unlocked a world of unlimited potential. Thank you for being such a significant piece to our puzzle and for embracing Lighthouse Autism Center's core values every day!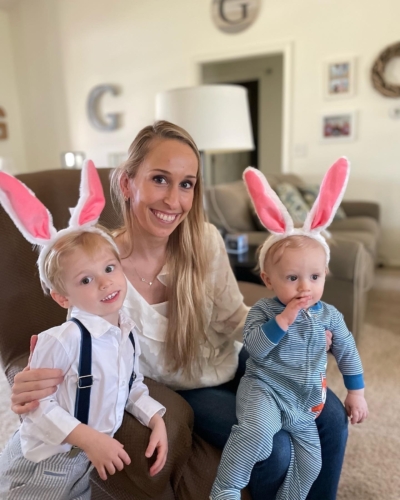 Maggie's Lighthouse Journey
Maggie is the Senior Director of Business Development at Lighthouse Autism Center. Her prior roles at Lighthouse include Receptionist, followed by Executive Assistant. Maggie loves spending time with her family and traveling. She has been to 20 countries and 5 continents. Maggie's unique skill is having an eye for finding sea glass at the beach. Almost every beach trip she has taken, she has found a piece of sea glass.
Life Before Lighthouse:
What was your career background/experience before Lighthouse Autism Center?
I graduated with a degree in Diplomacy and International Relations from Seton Hall University. My first job before joining Lighthouse in 2014 was as a direct support associate with adults who have autism. I've also worked at the University of Notre Dame in their Development Department.
Lighthouse Journey:
Why did you originally apply at Lighthouse Autism Center?
I wanted to work somewhere where I felt like I made a difference. My first job prior to Lighthouse was working as a direct support associate for adults with autism. I loved that job. Lighthouse provided me an opportunity to take the next step in my career while still being connected to a mission I was passionate about.
What is your favorite memory at Lighthouse?
When I first started at Lighthouse, I loved sitting at the front desk. I was in the heart of the center and had a front row seat to the kids playing in the playroom. There was even one boy that used to work to come and see me and it was the best the feeling!
How has Lighthouse impacted you personally?
Lighthouse has changed my life in immeasurable ways. The biggest way though is investing in my professional growth. Lighthouse has provided me with opportunities to refine my skills, expand on those skills, and has challenged me to try new things. I'm grateful for the opportunities Lighthouse has provided to continue to develop professionally in my career.
What is your favorite part about working at Lighthouse?
The people. I can honestly say I genuinely like every single person I work with. With a mission like ours, it's hard not to attract just downright good people. And you feel that when you're here. It's a joy to come to work every day, not only because I love working for Lighthouse, but I enjoy the people I work with.
What does Lighthouse mean to you?
Lighthouse for me means being part of something that is bigger than myself.
Which of the LAC Values do you most identify with?
Give away credit. It's so important to lift each other up. It truly takes a village for us to pursue our mission and it's important that we recognize everyone's role in supporting that mission.
What is your favorite change/improvement you have experienced in your time at Lighthouse?
It's incredible to see how much we have grown over years, not only in size, but in how we have evolved as an organization to consistently build and improve, while still staying true to our core mission.
What advice would you give to prospective or new employees?
Speaking specifically to prospective employees on the admin team, I would say to run don't walk at an opportunity to work for Lighthouse. It's rare that an "office job" makes you feel like you are really making an impact on your community. With Lighthouse, we have this incredible opportunity to work for an organization that is making such a direct and tangible impact on the communities we live in – it's an incredible feeling to be a part of that.
Ready for a career where you can make a difference?