Setting a Strong Foundation, the Lighthouse Way – Meet Christopher Adams
Meet Christopher Adams
In May of 2022, Lighthouse Autism Center is celebrating 10 years of business. This would not be possible without our tenured staff. These individuals helped build a strong foundation for Lighthouse Autism Center and continue to bring compassion and expertise every day! They have paved a path for an inspiring future of endless growth and possibilities. They have brought hope into our communities and homes. They have unlocked a world of unlimited potential. Thank you for being such a significant piece to our puzzle and for embracing Lighthouse Autism Center's core values every day!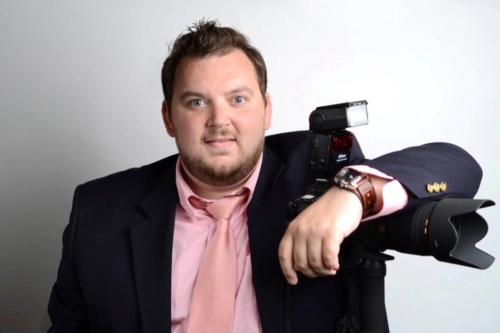 Christopher's Lighthouse Story
Christopher is an IT Helpdesk Specialist II at Lighthouse Autism Center in South Bend. He started at our Mishawaka Park Place center as a Behavior Therapist. Christopher loves spending time with his family and dog, doing arts and crafts, as well as writing and recording music with his friends. He inspires to write children's books and even proposed to his wife by writing and illustrating a book that ended with an elephant begging the question "Will You Marry Me". Christopher is quite active. He can skateboard, ski, and surf!
Life Before Lighthouse:
What was your career background/experience before Lighthouse Autism Center?
After graduating with a bachelor's degree in psychology from Bowling Green State University in Ohio, I spent some time working as a professional musician. I spent some time touring and worked in a recording studio. After that I moved back to Indiana, and I worked for other Mental Health Service providers. Prior to Lighthouse I worked for 7 years doing therapy services that were grounded in Activities of Daily Living and Cognitive Behavioral Therapy Models. I worked for service providers that partnered with local schools to provide services at the school and in the homes of our clients. I also own and operate a photo and video business.
Lighthouse Journey:
Why did you originally apply at Lighthouse Autism Center?
When I got married, I moved to Mishawaka, and I made friends with a Lighthouse Autism Center Therapist from the Edison Center. I heard how highly she spoke of her coworkers as well as her high regards for Gregg, Sandy, and Leila. She also talked about how positive the work environment was and how the model was different than anywhere she had worked before. My friend strongly encouraged me to apply for a job and after some coaching I decided to take her advice. After meeting with Jordan Kujawski, shadowing Sean Addley, and eventually meeting with Leila Allen I was hopeful I would receive an offer. I saw something radically different than the type of treatment I had worked in before and I was impressed. Fortunately, Sandy called me shortly after to offer me a job. I am so grateful for the friendship that led me to LAC. I am grateful to have discovered Lighthouse. Several people have personally invested in me and my family and I am so happy that I decided to leave a job I loved for one that has truly been a career.
What is your favorite memory at Lighthouse?
While working as a therapist I got to accompany clients as they transitioned into to the school setting. It was so exciting to see all the skills we had worked on with the kiddos generalize to their new setting. The feedback I got from the schools was always grateful.
How has Lighthouse impacted you personally?
Lighthouse has continued to evolve as an organization, stretching and growing to better serve our families. In that growth, the company has remained fiercely loyal to the values of the small company I started at. Lighthouse values employees. It has been refreshing to work for a company that gives away credit to its employees. I have had some incredible supervisors who have embodied this company value and have provided me with constant reminders of gratitude, support, and recognition for our efforts. Lighthouse values families. Even more impactful than the appreciation I have received for my work at Lighthouse, is the confidence in knowing that the company has never lost sight of our mission to improve the lives of the families we work with. The supervisors I have worked with constantly remind the staff that by improving outcomes for the kiddos that we are changing the lives of families. Now that I work in IT, I still feel the emphasis of the organization and what our core objectives are. Every year at Christmas we read stories from families. Each account that I read reminds me that I work for a company that is in the business of changing lives for families. Additionally, each tear-filled graduation we have reflects not only the pride our staff have in the work they do but also the depth of connection we feel to the families we serve.
What is your favorite part about working at Lighthouse?
It is hard to say that I have a favorite thing about Lighthouse, but I am grateful for connections. I am grateful for the connections I have with the teams I have worked with and the connections we all feel to the families we serve.
What does Lighthouse mean to you?
Like the name implies I think Lighthouse is a beacon of hope for the families we serve. It means a lot to me to work for an organization that does what it says it does. I have worked for companies that look good on paper and "talk the talk." I feel Lighthouse "walks the walk." I have seen huge transformations in the lives of our clients, and I have felt genuine gratitude from the families we have served. Lighthouse has also been a place for me to grow personally and professionally. People have personally invested in me at Lighthouse and have given me trust and room to grow.
Which of the LAC Values do you most identify with?
Put a premium on innovation and creativity. I loved the times in Pod meetings where the floor was open to new ideas. The Program Managers would take our rough ideas and input and shape them into programs for improving outcomes from kids and their families. In my new role in IT, I feel that all the ideas I have proposed for improving processes reflect our other values like, "Don't separate the vision from the operations." Lighthouse values creative input from its employees and I feel like the leadership does a good job of ensuring that those ideas are aimed at our other values and our core objective of improving lives through quality ABA.
What is your favorite change/improvement you have experienced in your time at Lighthouse?
I think the most exciting change or improvement I have seen at Lighthouse is the addition of all the new centers. I know the need for quality ABA is widespread and I am excited that Lighthouse stepped up, took the risk, and expanded so that we could offer this needed service to so many incredible families. When I started at Park Place, we only had two centers and now we have more than 20. The feedback from the families and our communities is overwhelming.
What advice would you give to prospective or new employees?
Allow yourself the opportunity to be vulnerable and embrace a new way of thinking. Lighthouse has a unique approach to ABA and to how it operates in general. If you commit to the values of the company, you fill find great fulfillment in seeing the results in the lives of the families we serve. Having worked in other centers before Lighthouse I had the perspective of seeing how fast the Lighthouse approach affected real life improvements for our clients and their families. Also, the investment you give to Lighthouse will be returned to you. The organization is structured to promote a positive culture and it relies on the staff to continually self-reflect and grow that culture by your words and actions.
Ready for a career where you can make a difference?