Lighthouse Autism Center Staff Spotlight: Haeleigh
Meet Haeleigh, an RBT at Lighthouse Autism Center Champaign
Haeleigh is a Registered Behavior Therapist at our Champaign center, where she has worked since May of 2022. Haeleigh received her undergraduate in psychology at the University of Northern Colorado and she is currently enrolled to begin a Master of Arts program in neuroscience and neurocounseling at Bradley University this fall. She has two pets- a dog, Mico, and a cat, Weeble. Haeleigh recently moved to Champaign, Illinois to be closer to family and for her program at BU.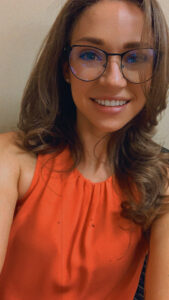 What made you decide to apply to Lighthouse?
I have always been interested in Autism Spectrum Disorder and working with children. I am excited to learn more about ABA at Lighthouse and have become more encouraged to spread the word of neurodivergence. The position has further inspired me to pursue my career in neurocounseling by learning more about behavior and behavioral analysis. With my experience at LAC, I am excited to be able to research additional therapy options like neurofeedback and biofeedback for people with ASD and similar disorders.
What is your favorite part of working at Lighthouse Autism Center?
Every day is different, and every role within the organization is vital. Each day our kiddos walk through the door, I know they learned a little bit more than the day before. Knowing it is because of my team at Lighthouse that we can change the lives of these kiddos and their families makes coming to work every day worthwhile. Witnessing joy from the kiddos as well as the RBT's throughout the day is one reason that makes coming to work each day so easy.
Do you have a favorite memory from your time here?
I have so many wonderful memories of the little quirks and personalities of the kiddos. I think my happiest memories come from the joy and laughter of the kiddos, especially while they are having fun learning and mastering out of programs. It's so rewarding working with a kiddo on a tough program, and then working with them a couple days later and seeing how far they've come to achieving a goal and progressing to more challenging programs.
Ready for a career where you can make a difference?