Lighthouse Autism Center Celebrates 10 Year Anniversary
Celebrating 10 Years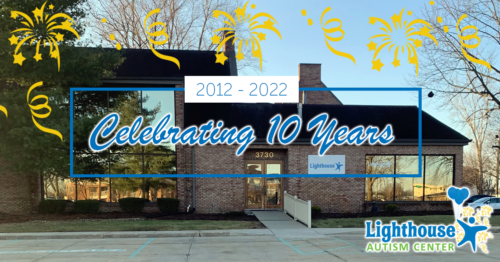 Lighthouse Started from Humble Beginnings
It's hard to believe that it has been a full decade since Lighthouse Autism Center first opened its doors. From humble beginnings of just serving four families in Mishawaka, Lighthouse Autism Center now provides autism services to over 500 families across three states. On May 21, 2012, Lighthouse Autism Center opened its very first center in Mishawaka, Indiana. With a handful of clients and a small team of clinicians, we began providing ABA therapy services to the Michiana community.
Over the past ten years, Lighthouse has grown into a leading center-based provider of ABA therapy for children on the autism spectrum, with a network of centers across Indiana, southwestern Michigan, and Illinois. As the largest ABA provider in the state of Indiana, Lighthouse has a reputation for bringing together compassionate care with clinical excellence, with autism therapy programs supported by a beautiful play-based environment that supports the best possible outcomes for children with autism. To think that Lighthouse stated with just one center and has now grown to over twenty centers is truly incredible.
When Gregg and Sandy Maggioli pursued their dream of providing the highest quality autism therapy services to families in Mishawaka, they never could have imagined just how big and how far that dream would come ten years later. Through a passionate team of individuals dedicated to transforming the lives of children and families with autism, Lighthouse Autism Center has impacted hundreds of clients and thousands of individuals across the state of Indiana, Illinois and Michigan serving as not only an ABA provider, but an advocate and support for special needs families.
We are grateful to all of our clients, families, staff, physicians, advocates and individuals who have been a part of the Lighthouse family for the past ten years and look forward to what another year will bring!
Follow us on Facebook to see all the exciting activities we will be doing in May, to celebrate 10 years of Lighthouse Autism Center! Click here: https://www.facebook.com/LighthouseAutismCenter
Together, we can unlock your child's potential