Lighthouse Autism Center Announces New Location in Noblesville, Indiana
New Location Center Opens in Noblesville, Indiana
Lighthouse Autism Center has some exciting news to share with you! This fall, Lighthouse Autism Center will open a new location in Noblesville, Indiana! The newest center will be part of the Access Together with Lighthouse Autism Center region and will be located at 15755 North Point Blvd.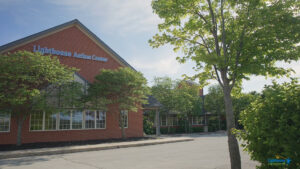 The design of the Noblesville center will be consistent with other Access Together with Lighthouse Autism Center centers and will include curated materials and inspired spaces to promote language and learning. The space will feature therapeutic areas to enhance skill acquisition in older learners without intensive behavioral needs. Most importantly, the new clinic will house talented practitioners trained in typical speech and language development in addition to behavior analysis.
With an abundance of natural light, high ceilings, a gated outside play area, and plenty of parking, we have no doubt this center will be a beautiful and warm space where children are able to learn and thrive!
Find a Center Near You
Interested in finding an autism center near you? Click Find a Center below to view a full list of current autism therapy centers.