How to Find the Best ABA Center – Part 3: Training and Safety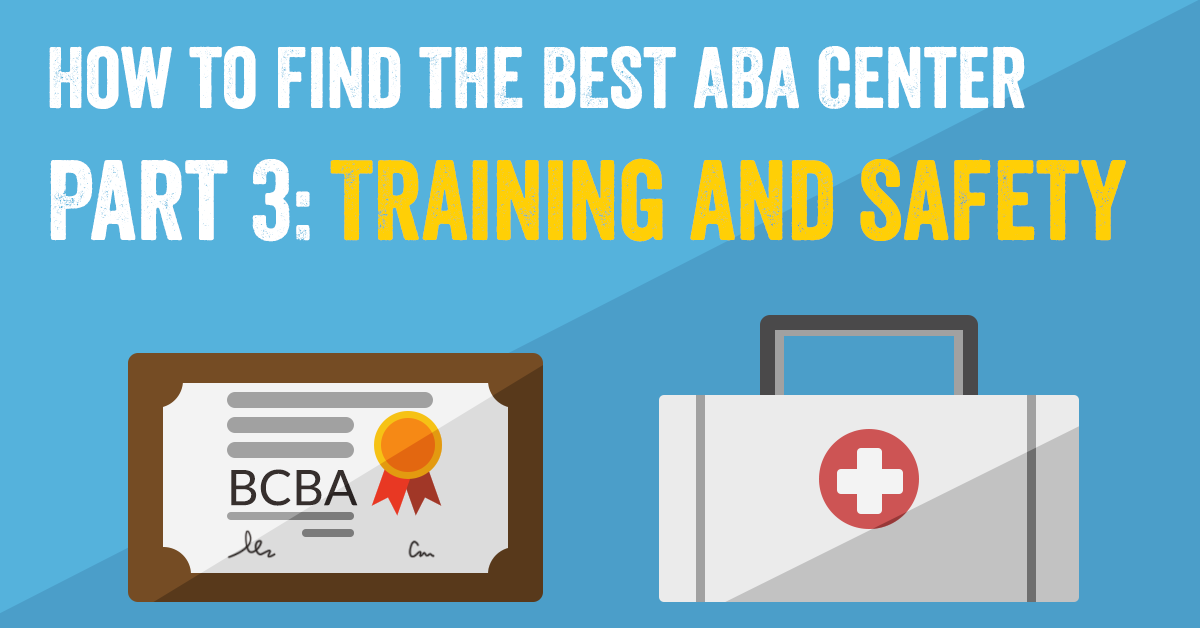 The time and effort that goes into training and safety can tell you a lot about the quality of an ABA center. Let's take an in-depth look at some of the training and safety practices that ABA centers should be using to provide quality, ABA therapy services.
Therapists that are working 1 on 1 with children should have a bachelor's degree in a related field
When it comes to the therapists that will be working 1 on 1 with your child, it's important to know that they have the right credentials. ABA therapists ideally should have a bachelor's degree from an accredited university or college. The ABA therapist's bachelor's degree should be in psychology, education or a related field. If they do not have a degree, they should at minimum have a broad base of experience working with children with autism, with additional training provided by the ABA Center.
Therapists that are working 1 on 1 with children should be Registered Behavior Technicians
Registered Behavior Technician(RBT) is the standard certification for ABA therapists that work 1 on 1 with children with autism. The RBT certification is the first level of certification from the Behavior Analyst Certification Board. If you find out that a center's ABA therapists are not RBTs, then you should see that as a big red flag. To give you an idea of how important the RBT certification is: Medicaid in Indiana will not cover ABA therapy that is not performed by an RBT.
Your child's program should always be supervised by a BCBA, or at a minimum a BCBA in training, with constant supervision from a BCBA.
The clinicians overseeing your child's whole therapy program should be Board Certified Behavior Analysts(BCBA), or at least someone who is working towards becoming a BCBA. Anyone working towards a BCBA is required to be directly supervised by a BCBA.
A Board Certified Behavior Analyst is the graduate-level certification from the Behavior Analyst Certification Board. Someone who is certified at the level of a BCBA is an independent practitioner, with a master's degree, clinical training, and has passed a board exam, who can provide behavior analysis services.
What is a Board Certified Behavior Analyst in training? Ideally, it is someone who has completed their master's degree, is being supervised by a BCBA, and is going to sit for their BCBA exam within the next 12 months. According to the certification board, most people working towards their BCBA certificate are required to be supervised by a qualified BCBA for nearly a year.
This is important to know, because there are many ABA centers who have therapy program supervisors that are neither a BCBA, nor a BCBA in training. By making sure your child's program supervisor is at least a working towards their BCBA, and supervised by a BCBA, you are ensuring that your child's program will be overseen by someone who is qualified, competent, and knowledgeable in ABA. You don't want to have your child's program overseen by someone who has haphazardly fallen into their role as a behavior analyst.
Safety training
Safety, safety, and more safety! ABA centers MUST master safety. With such a large volume of children who must be supervised constantly, it is crucial that the ABA center is vigilant at all times when it comes to safety protocols and procedures.
One of the best ways to check if safety is being maintained at a center is to ask about the training of the staff, beyond ABA skills.
Are the staff CPR trained and First Aid certified? Not having staff that are CPR and First Aid trained poses a great risk. There may come the time when a child's life is in danger and requires CPR, medical attention, or care for an injury.
Another question to ask: are the staff trained in crisis management? Crisis management is a set of techniques and strategies developed to minimize violent incidents and escalating crises. Children with special needs may often engage in challenging behaviors and create potentially dangerous situations. Having the right tools to safely manage these types of risks is crucial for any ABA center.
Another important question: Does the center have appropriate safety protocols throughout the center that staff are trained on? Does the center have dialed-in procedures for lock-downs, tornado drills, and fire drills? Just like at a school, an ABA center needs to have all these procedures and more in place to be truly safe for your child.
Another way to measure the safety of an ABA center is through looking at their security mechanisms and child-proofing. Does the center have effective security mechanisms on entries and exits to prevent children from eloping? Does the center have their drawers and cabinets adequately child-proofed so that children can't access harmful cleaning chemicals? If they have a kitchen, is there a locked drawer for items that could be sharp?
Do they background check the staff?
Any company that is working closely with children should be background checking their staff. If it concerns you as a parent that some centers do not background check their staff, then your head is in the right place!
Gain the peace of mind of knowing that the ABA center you send your child to is doing background checks. Simply ask and find out for yourself.