Fall Activities for Autistic Kids 
Any change of season brings changes, but fall is particularly transitional. We take a look at some of the activities that can help autistic children adapt to these changes.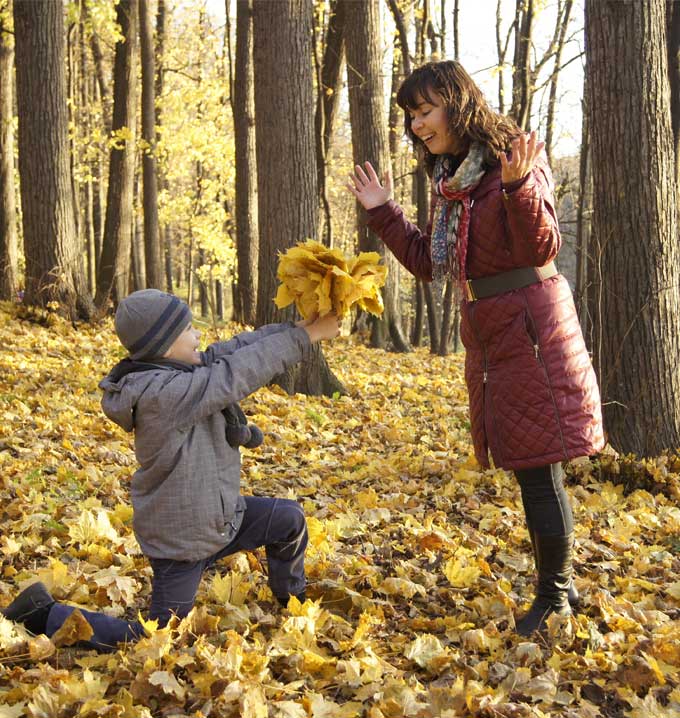 Fall Activities for Autistic Children 
While each season brings big changes, fall is possibly the standout one in this respect, with a big seasonal shift and the start of a new school year.
Many children (and adults) love fall. There's the change from summer colors to oranges and reds, and tangerine-tinted leaves start to line the floor. Hot summer days make way for a fresh bite in the air, signaling the change to a new wardrobe. Of course, it means Halloween is just around the corner, too.
Where fall is an exciting prospect for allistic kids, the big changes can be stressful and overwhelming for autistic kids. However, with the right planning and sensory activities, autism doesn't need to stand in the way of your child enjoying the seasonal change.
Let's look at why seasonal shifts are challenging for autistic children, as well as the autism-friendly activities that you can use to make the transition less stressful.
How seasonal shifts affect autistic children 
Autistic children thrive with a predictable routine, schedule, and timetable. Seasonal shifts can be stressful because they signal change. Fall, in particular, can be an overwhelming transition for several factors.
End of summer holidays
Summer holidays are long, and children get used to their holiday routines. Returning to school means changing and adjusting to a new set of expectations, schedules, and routines.
New school year
The new school year starts in September, which could mean big changes for your child: a new classroom environment, a new teacher, some new classmates, unfamiliar routines and subjects, and more.
Wardrobe changes 
Autistic children can become attached to a certain piece of clothing, whether that's because of the color or how the texture feels against their skin, etc. Falls means that there's a wardrobe change, which could mean giving up a piece of summer clothing they aren't willing to let go of.
Weather and outdoor changes
While it's not an overnight change, fall does signal that winter is imminent, and depending on where you live, this could mean waking up in the dark, snow days, and more. All of this can be upsetting for an autistic child in a set routine.
Fall activities for autistic children 
The change of season can have many positive impacts and opportunities for your child to have new experiences. By using learned skills and tools and with your support, these transitions can be beneficial for them if planned for correctly.
These are just some of the fall kids' activities that you can plan for to make the seasonal transition easier for your child.
Create a fall sensory bin
A sensory bin is a wonderful tool and is an essential autism activity throughout the year. Fill the sensory bin with a range of fall-related objects like dried corn, chestnuts, gourds, pinecones, etc. Then, allow your child to run their hands through these items and pick each one up to feel their texture.
This is an excellent sensory activity that is hands-on and can benefit a range of other developmental domains. Use cups, spoons, or tweezers to pick things up to develop fine motor skills, separate objects into colors for color identification, or simply leave them to explore and hone their independent play skills.
Visit a pumpkin patch 
Autumn is synonymous with pumpkins, and while it's simpler to buy a pumpkin from the grocery store to carve at home, it doesn't beat the experience of going to an actual pumpkin patch. If your child is sensitive to sensory stimulation or struggles with crowds, then try and find a small street-side display on a quiet day. However, if you're comfortable taking your child to a farm, they could get the full experience of a petting zoo, corn mazes, tractor rides, and more.
Talk to your child at home about what kind of pumpkin you want to bring home. Discuss the various shapes, sizes, and color options they will see. Then, let them choose their own pumpkin (or two) to take home.
Carve a pumpkin at home 
Carving a pumpkin is one of the classic fall activities for kids. It's also full of beneficial sensory experiences.
Allow your child to pick out the design that they want to carve out with you and then take note of the different sensory experiences on the way. Ask your child to feel the smooth skin of the outside of the pumpkin and then the slimy texture of the flesh inside. The squishy nature of the strings around the hard seeds is always an exciting find. Also, engage their sense of smell. You could extend this by baking a pumpkin pie or something similar afterward so that they can use their taste buds, too.
Bake seasonal treats 
Children love to be involved in baking activities, and it's a wonderful way to engage a variety of different skills. Of course, you should probably expect a mess, and the end result might not win any bake-off awards, but it's the experience with your child that really counts.
Show them what you want to make, whether that's pumpkin muffins, an apple pie, or Halloween-shaped cookies. Allow them to help you pour and stir mixtures, and perhaps they can even try portioning or measuring out the simple ingredients, such as a cup of flour.
There's nothing quite like watching their eyes light up when they get to tuck into something that they've made themselves. It also practices turn-taking, following directions, and fine motor skills.
Fall themed arts and crafts
There are abundant opportunities for fall-themed arts and crafts for autistic kids. When deciding on what to do, it's essential to consider your child's abilities, needs, and interests. The best autism arts and crafts incorporate independent play, creativity, color and identification, following directions, fine motor skills, and much more.
Support your child while they create by providing demonstrations, visual cues, gestures, and clear verbal instructions. Consider activities such as putting paint on cut apples or fallen leaves to create fall-themed stamps. Place dried or fresh leaves under a light piece of paper like tracing paper, and use crayons or oil pastels to go over and see its outline.
Spend time outdoors
Spending time outdoors is beneficial for every child, and the onset of fall offers a wonderful opportunity to take note of seasonal changes. Of course, this is extra effective if you live somewhere where the seasonal changes can be quite evident.
A great way to get your child excited about going out on a trail or simply into the garden is by going on a fall-themed treasure hunt. Write a list and create visuals of different fall objects that you want to collect while you're outside, such as a pinecone, an orange leaf, a yellow leaf, an acorn, etc. Then, set out on a mission with your child to gather them all up.
Afterward, you can create another great outdoor experience by getting them to help you rake up a pile of leaves for you both to play in. The texture, sound, and color of the leaves are bound to delight both you and your child.
With planning and support, changes can be beneficial for autistic children
Autistic children are resistant to change, but with the right support and preparation, transitions don't need to be traumatic.
Programs like the Lighthouse Fusion ABA Therapy are geared around preparing you and your child for changes like this. We use our expertise to equip you with essential tools and autism resources that you can use to ensure that your child can benefit from the experience by using their skills to adapt and prepare for, rather than react to, transitions and changes.
Together, we can unlock your child's potential