Elkhart Mayor Tim Neese Visits Newest Center in Elkhart, IN
Elkhart Mayor meets student at Elkhart's newest ABA Center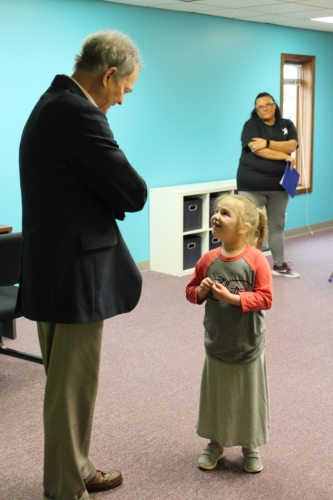 On Wednesday, September 25, 2019, Elkhart Mayor Tim Neese visited Lighthouse Autism Center's newest center in Elkhart, IN. Mayor Neese met with founder and Executive Director, Gregg Maggioli, to learn more about Lighthouse and the ABA services being offered to the Elkhart community, as well as the 30 additional
jobs that will be created through the opening of the new center. Following their meeting, Mayor Neese toured the center, visiting therapy rooms, the playroom, and group therapy spaces. The Mayor also had the opportunity to meet some of the kiddos who attend Lighthouse Autism Center in Elkhart and provided them with a small token to commemorate his visit.
Lighthouse Autism Center in Elkhart is currently enrolling. To learn more or schedule a tour of the new center, contact us at 574-387-4313.
Together, we can unlock your child's potential