Acronyms Used With Autism Spectrum Disorder
Autism Acronyms and What You Need to Know
Do you have a child that has recently been diagnosed with autism but do not understand all the acronyms being tossed around with autism? Let us help you breakdown some of the most commonly used acronyms used with autism.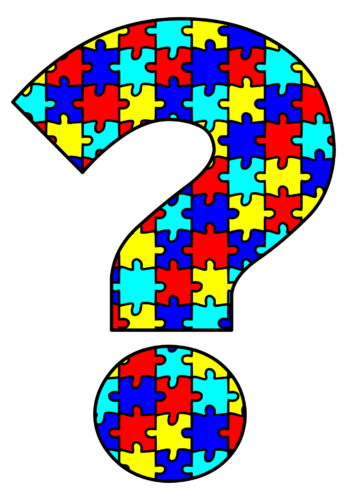 There are so many! Let us start with the basics:
Autism Spectrum Disorder (ASD)
Autism Spectrum Disorder is defined as the broad range of conditions that include challenges with communication skills, social skills, motor skills, daily living skills and more. Autism and autism spectrum disorder (ASD) are general terms used for grouping complex disorders affecting brain development. These developmental disorders are characterized in degrees by the severity of the below indicators:
Rett syndrome
Autistic disorder
Pervasive developmental disorder-not otherwise specified (PDD-NOS)
Childhood disintegrative disorder
Asperger syndrome
ASD can be associated with the following:
Social interaction difficulties
Language, speech, and communication difficulties
Behavioral and sensory difficulties
Intellectual disability
Physical health issues and difficulties in motor coordination
Applied Behavior Analysis (ABA)
Applied Behavior Analysis (ABA) is a therapy based on the science of learning and behavior. ABA therapy focuses on the principles and techniques of learning theory to help increase or decrease certain behaviors. ABA therapy is a scientifically validated approach to understanding learning and behavior by looking at the function of the behavior and the environment in which it occurs. ABA Therapy principles have been applied since the early 1960s to both children and adults with various developmental diagnoses. There has since been an evolution and improvement in the therapy techniques used, but the core teaching of ABA has stayed the same and remains to be the therapy that shows the best outcomes for those with autism. Today, ABA is the only therapy endorsed by the U.S. Surgeon General as an effective treatment for autism and is endorsed by several other state and federal agencies, in addition to physicians and advocates in the autism community.
Board Certified Behavior Analyst (BCBA)
A graduate-level professional in behavior analysis who provides supervision for RBTs. BCBAs evaluate children and create personalized treatment plans.
Registered Behavior Technician (RBT)
A paraprofessional in behavior analysis who practices under the close, ongoing supervision of a BCBA. This role is also often referred to as a behavior therapist. RBTs work one-on-one with a child with autism to help them develop new skills and decrease socially significant problem behavior. RBTs receive in-depth training in behavior analysis, speech therapy, and more.
Speech-Language Pathologist (SLP)
SLPs are experts in communication. SLPs work with people of all ages, from babies to adults. SLPs treat many types of communication and swallowing problems. These include problems with:
Speech sounds
Language
Literacy
Social communication
Voice
Fluency
Cognitive communication
Feeding and swallowing
Dually Certified Clinician (BCBA/SLP)
Dually Certified Board-Certified Behavior Analyst and Speech Language Pathologist (BCBA, SLP). BCBA/SLPs are highly skilled and very rare – with only a couple hundred in the entire world, they have a master's degree in both ABA and speech-language pathology and are certified BCBA's and SLP's.
Occupational Therapy (OT)
Occupational therapy is a field of healthcare that treats people who have injuries, disabilities, or other conditions, including autism. The main goal of occupational therapy for autism is to improve the patient's quality of life. Through interventions, occupational therapists can help people with ASD gain independence.
After completing the evaluation, the occupational therapist works with the patient and family to develop an intervention plan and treatment goals. Occupational therapy interventions for autism may include:
Focusing on sensory integration and sensory-based strategies.
Emphasizing mental health and wellness.
Implementing emotional development and self-regulation strategies and programs.
Organizing peer groups, social participation, and play activities.
Improving self-care routines to help with daily activities such as bathing, feeding, and grooming.
Working on motor development.
Supporting an adolescent's transition into adulthood and helping them build skills to enter the workforce.
Using cognitive behavioral approaches to support positive behaviors.
Crisis Prevention Institute (CPI) Training
Picture Exchange Communication System (PECS)
Childhood Autism Rating Scale (CARS) testing
Autism Diagnostic Observation Schedule (ADOS) testing
Crisis Prevention Institute (CPI) Training
CPI can best be described as nonviolent crisis intervention training designed to teach best practices for managing difficult situations and disruptive behaviors. Therapists learn how to identify at-risk individuals and use nonverbal and verbal techniques to defuse hostile behavior. This type of training not only ensures the utmost safety of the children at our centers, but also, the safety of our staff.
To learn more, visit https://www.crisisprevention.com.
Picture Exchange Communication System (PECS)
PECS is a unique alternative/augmentative communication system developed in the USA in 1985 by Andy Bondy, PhD, and Lori Frost, MS, CCC-SLP. PECS was first implemented with pre-school students diagnosed with autism at the Delaware Autism Program. Since then, PECS has successfully been implemented worldwide with thousands of learners of all ages who have various cognitive, physical and communication challenges. The primary goal of PECS is to teach functional communication.
Autism Diagnostic Observation Schedule (ADOS)
This is an activity-based assessment administered by trained clinicians to evaluate communication skills, social interaction, and imaginative use of materials in individuals who are suspected to have autism spectrum disorder (ASD).
Childhood Autism Rating Scale (CARS)
This is 15-item observation-based rating scale designed to accurately differentiate children with autism from those with developmental delays without features of autism.
Modified Checklist for Autism in Toddlers (MCHAT)
This is a parent-report screening tool to assess the risk for Autism Spectrum Disorder (ASD). In approximately 10 minutes, parents can complete the 20 questions and receive an autism risk assessment for their child.
Together, we can unlock your child's potential