What is applied behavior analysis (ABA) therapy? ABA therapy is a specific type of therapy for children with autism that aids in the development of new skills, shapes and refines previously learned skills and decreases socially significant problem behaviors.
ABA Therapy for Kids with Autism
ABA therapy for autism is most effective when implemented at an early age. Research shows that early diagnosis of and interventions for autism are more likely to have better outcomes, long-term. Early interventions occur at or before preschool age, as early as 2 or 3 years of age. ABA therapy applies the understanding of how behavior works in natural environments. The goal is to increase behaviors that are helpful and decrease behaviors that are harmful or affect learning. ABA therapy focuses on various goals, tailored for each child uniquely. These goals can include many different skill areas, such as:
Communication: speech and language skills
Social skills
Improve attention, focus and memory
Decrease problem behaviors
Self-care (such as showering and toileting)
Play and leisure
Motor skills
Learning and academic skills
ABA therapy tends to use positive reinforcement. This is a reward system wherein a child will receive an item or privilege that they enjoy when they demonstrate the desired behavior. Lighthouse Autism Center takes a naturalist play-based approach because we know that the children are more motivated to learn when they are having fun. Research suggests that children with autism who engage in high intensity ABA therapy over a long period of time are more likely to meet their personal treatment goals.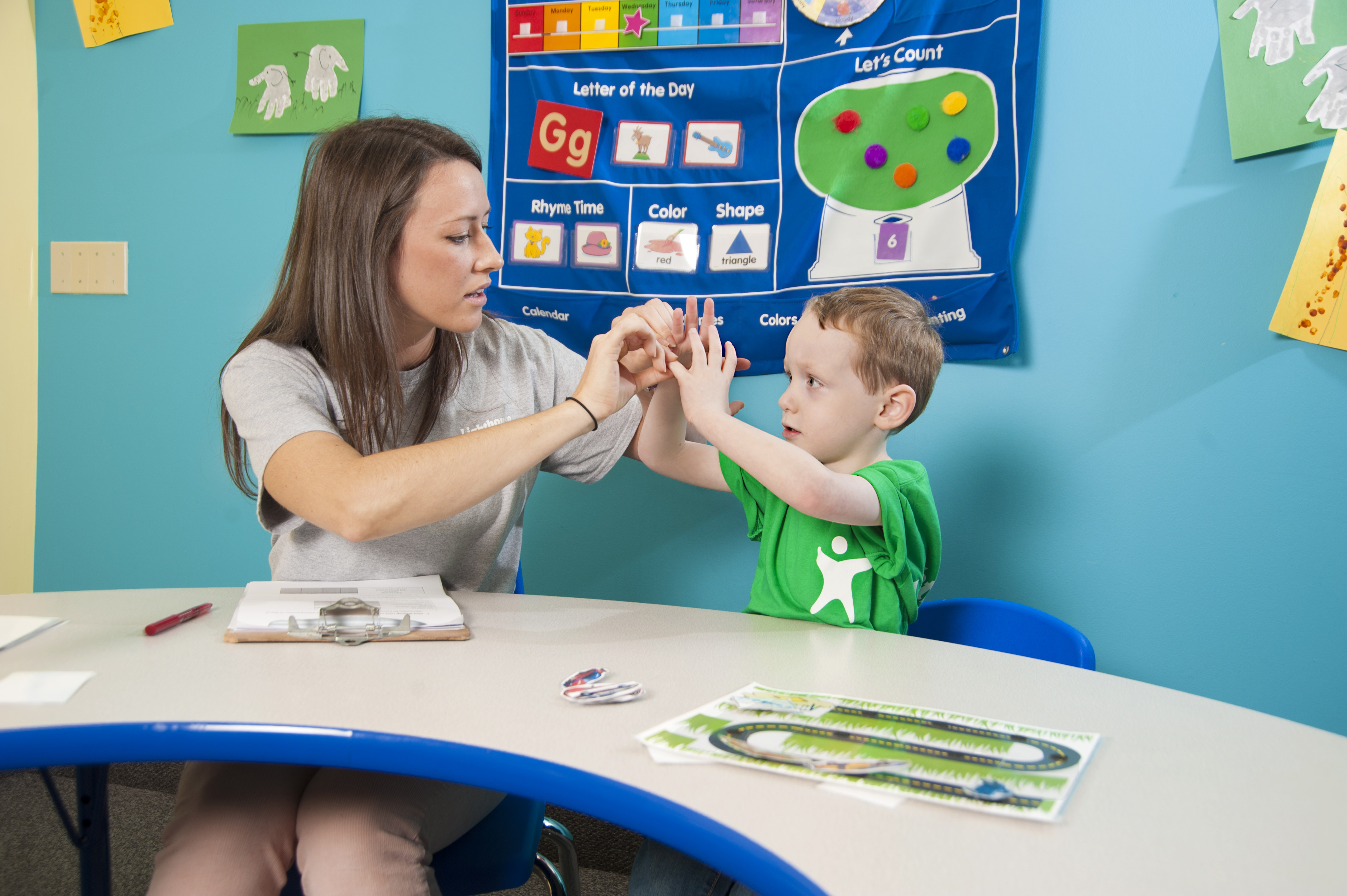 How does ABA therapy work?
ABA therapy has been proven to help children with autism learn communication, social, living and school-readiness skills. So, what is ABA therapy for autism and how does it work?
Qualified and trained BCBA's (Board Certified Behavior Analysts) lead and oversee a child's therapy program
After a detailed assessment of a child, the BCBA will create a unique program with consideration given to the child's ABA therapy goals, preferences and the overall family goals.
Goals will be developmentally appropriate for that child and will include things like sociability, communication, play, self-care, motor development and academic skills.
Highly qualified and trained therapists will help a child achieve these goals through detailed instruction plans that break down skills into skill sets. The child will then work on the most basic skill sets and build up to more complex skill sets, with each skill set building off of the previous one.
Therapists continually collect data on your child to determine which skill sets are improving, which one's are not, and how the therapy program may need to be modified in order to make sure your child achieves their goals
Regular meetings with family and staff take place to allow for planning, review of child's progress and to make any needed adjustments.
Learn More About ABA Here.
ABA Therapy the Lighthouse Way
There are many benefits of ABA therapy at Lighthouse Autism Center. Our organization provides the highest quality ABA therapy to children and families. At Lighthouse Autism Center, a certified BCBA creates a custom therapy program for your child based on their skills, skill gaps, and with input from caregivers.
At Lighthouse, your child will always work one-on-one with a certified Registered Behavior Technician (RBT) and their therapy will be overseen by a BCBA. Your child's day will be structured to provide planned and naturally occurring learning opportunities, allowing your child to acquire and practice skills in both structured and unstructured situations. This will ultimately allow them to apply what they have learned at Lighthouse at home and in a real-world setting.
Additionally, your child will receive positive reinforcement for demonstrating socially acceptable behavior and skills emphasizing positive social interactions and enjoyable learning for your child.
Parents, family members and caregivers are also given training on ABA basics to allow them to support their child at home and help the child learn and practice skills taught at Lighthouse.
To learn more about ABA the Lighthouse Way, contact us at www.lighthouseautismcenter.com/contact-us.