Meet Yazmin. Yazmin is the Administrative Coordinator at our office in South Bend, IN. Yazmin started her career with Lighthouse as an RBT before being promoted to Administrative Coordinator. While she loved her time working as a clinician with Lighthouse kiddos, Yazmin was ready to take the next step in her career, and applied for the Administrative Coordinator position – and we are so glad she did! Yazmin supports the entire Administrative Team in the South Bend office and is the first person you will talk to when you call Lighthouse Autism Center. Learn more about her Lighthouse experience below.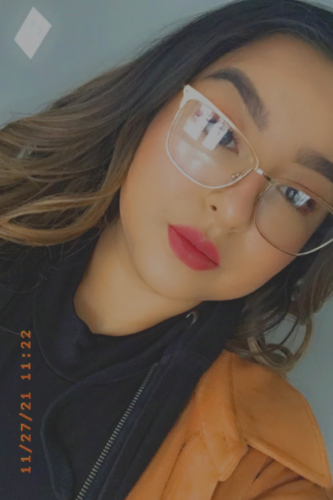 Tell us about why you applied for a position with Lighthouse.
After graduating in Spring of 2020 from Western Michigan University with my bachelor's in business administration and minor in Spanish, I moved to South Bend, IN. It was the peak of Covid and it was very difficult to find a job even more difficult being a recent graduate. I had previously worked with High School students and College Freshmen for most of my college career but couldn't find something down my alley. After months of searching, I had seen many job openings for RBTs. I read the description and it was something that definitely caught my eye. I have two siblings on the Autism Spectrum Disorder and had seen the struggles for both my siblings and parents. I had wanted to work with children with autism but never really knew if that was something I would ever be good at but I knew I had the heart for it. So, with some knowledge that I had I figured I could apply. I applied to three different places, but Lighthouse was the best choice from the three. Lighthouse was friendly, positive environment and had a few WMU Graduates as their BCBA's. I loved it. I went on to get my RBT certificate, then became an RBT trainer, now the Administrative Coordinator.
Tell us about your favorite part of working with your team at Lighthouse.
I sure enjoy working with the administrative staff. Everyone is nice and it's great to see people grow on this side too.
How would you describe your Lighthouse experience?
Being an RBT was very rewarding. Seeing kids grow into a little individual was amazing. A small milestone was not only HUGE for them but for their families and peers. Being a part of those milestones just made me feel great, humbled, and with purpose. Once I moved on to the administrative side, I sure did miss the kiddos. But I wanted to put in my college degree to work! My favorite part of my administrative position is when Spanish speaking families ask if anyone speaks Spanish and when I say I do, they have a sigh of relieve and just go on and on about how they can finally talk to someone about the struggles of finding services for their child. It makes me happy to take a small amount of weight off their shoulders. Having to find out your child has been diagnosed with ASD is hard, you don't know where to start and having a language barrier can make it more difficult to get on the right path.
Working with Lighthouse has been great. I've enjoyed coming in to work and having a sense of purpose. No matter how big or small the task is.
Lighthouse Autism Center is hiring! To view a list of available positions visit www.lighthouseautismcenter.com/jobs.