Shining Examples Fall 2015 – Aidan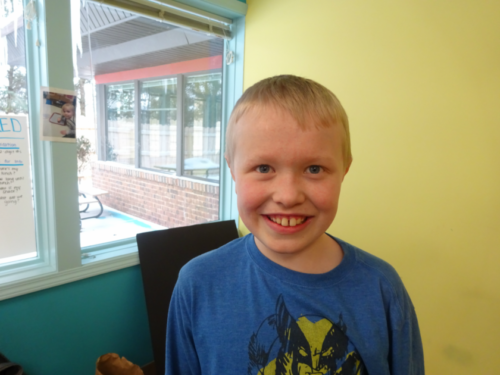 In the three years Aidan has spent at Lighthouse he has grown from a child who had difficulty with his diet, communicating, and academic work, to a student transitioning back to school who now dreams of a career as a zookeeper! "We believe he would make an excellent one, and we would like him to have the same opportunities to fulfill this dream as any other child," said his mom, Michelle. "We know Aidan is a very intelligent boy, and Lighthouse Autism Center has been able to let him show it to the world!" Prior to transitioning back to school, Aidan mastered first, second, and third grade workbooks, and started working on a fourth grade level that includes reading/writing, math, social studies, and science. Aidan has accomplishments in several other areas in addition to his academic ones. These include:
Communication: Aidan is more confident and open about his thoughts and feelings, and is now able to hold a conversation with family and friends.
Diet: At first, Aidan would only eat taco meat for lunch and dinner. He now eats 23 other food items regularly and also attempts to try new foods.
Counting: Once unable to count by multiples, he's now proficient at addition with borrowing, subtraction with carrying, two-digit multiplication, and long division. Aidan's parents are both very proud he's
graduating and able to attend traditional school full-time.
"We are so thankful for Aidan's Program Managers, Therapists, and the Lighthouse staff," said Michelle. "You have been a big part of our lives for almost three years and we will never forget the things you have done for our Aidan. Thank you so much for giving Aidan your time, patience, love, and support."
At LAC, we are seeing incredible progress made by our learners every day.