Lighthouse Autism Center Shining Example: Jon
Meet Lighthouse Autism Center's Child Spotlight of the Month: Jon.
Meet Jon. When Jon first came to Lighthouse, he could not consistently communicate his wants or needs. He struggled with transitions away from preferred items or activities and did not respond to directions. Jon also did not engage with his peers or take turns with preferred items. Since enrolling at Lighthouse, Jon has made incredible progress.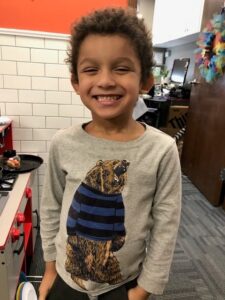 Jon's Progress at Lighthouse Autism Center
Jon can now identify and vocalize his emotions
Jon can now use 4-5 word sentences to ask for what he wants or to participate in a conversation
Jon now plays at the playground with other kids, and will even introduce himself to others
Lighthouse Autism Center Staff Perspective
"Jon's progress has blown our staff away. When he started, Jon was quiet and did not reliably use his words. Now, Jon will spontaneously start conversations with others, ask for what he wants, and interact with his peers. Jon lights up our center with his smile and goofy personality. We are all so proud of him!"
– Courtney Schultz, Lighthouse Autism Center Clinical Director
At LAC, we are seeing incredible progress made by our learners every day.