Lighthouse Autism Center Shining Example: Ariah
Meet Lighthouse Autism Center's Child Spotlight of the Month: Ariah.
When Ariah first came to Lighthouse, she had no vocal communication skills and often struggled with tantrums. She experienced challenges with peer interactions such as sharing items with others. Ariah also was not toilet trained. Since coming to Lighthouse, Ariah has made so much progress!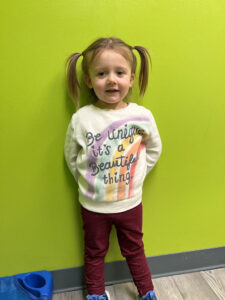 Ariah's Progress at Lighthouse Autism Center
Ariah now enjoys playing with her peers including sharing toys!
Ariah has increased her communication skills and can now vocally communicate with 3-4 word sentences
With the skill to communicate, Ariah is now experiencing fewer tantrums.
Ariah is now toilet trained and can stay dry all day.
Lighthouse Autism Center Staff Perspective
"Ariah is such a joy at the center! It has been so much fun to see her language grow. We can't wait to see what Ariah will accomplish next!"
– Jovanna Trejo, Lighthouse Autism Center Senior RBT
At LAC, we are seeing incredible progress made by our learners every day.