Lighthouse Families First Foundation Makes $50,000 in Donations to Local Food Pantries
Similar to so many individuals, businesses, organizations and the entire world, Lighthouse Autism Center, a therapy center for children with autism, has been deeply affected by the COVID-19 pandemic. All seven therapy centers are closed, and services are currently provided to children and families through telehealth. In Lighthouse Autism Center's eight years of operation, the team hasn't experienced anything like it.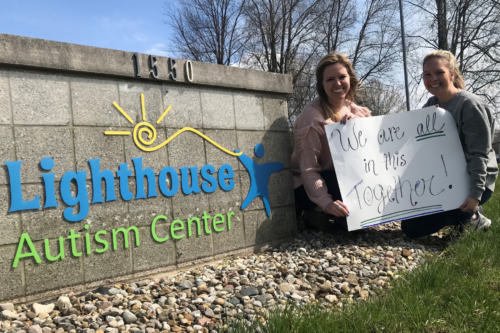 During a time when so many are suffering, Lighthouse Autism Center is seeking to do its part by helping those in the communities that we serve. Through the Lighthouse Families First Foundation, donations totaling $50,000 on behalf of each one of the Lighthouse Autism Center employees has been made to local food pantries. These donations were given to: Hope Ministries in South Bend, IN, Mishawaka Food Pantry in Mishawaka, IN, Church Community Services in Elkhart, IN, Fellowship Missions in Warsaw, IN, Marshall County Neighborhood Center In Plymouth, IN, and Loaves and Fishes in Kalamazoo, MI.
Founders of Lighthouse Autism Center, Gregg and Sandy Maggioli, said, "At each of the Lighthouse centers, you will see a list of values displayed that guide our organization. The first value listed is 'care about people more than anything.' Even though we may be closed, we still live our values and we are seeking to do that now more than ever by helping those most in need in our communities."
To learn more contact Lighthouse Autism Center at 574-387-4313.
Together, we can unlock your child's potential