Lighthouse Autism Center Shining Example: Bella
Meet Lighthouse Autism Center's Child Spotlight of the Month: Bella.
Since enrolling at Lighthouse Autism Center, Bella has made wonderful progress! Prior to receiving services at Lighthouse, Bella engaged in high magnitude aggression, screaming, and refusal to comply with all self-care tasks including hair brushing, dressing, using the bathroom, and toothbrushing. She engaged in high magnitude behavior while in the family vehicle and when asked to enter community locations such as schools, centers, and other peoples' homes.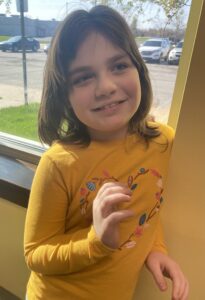 Bella's progress at Lighthouse Autism Center
She now tolerates her hair being brushed by multiple adults
She gets dressed every morning
She uses the bathroom at home and in community environments
She is now able to brush her teeth
She now enters the center with up to 4 different Behavior Therapists with no problem behaviors
She has also acquired 4 different escape requests to be used to end aversive activities or experiences
Lighthouse Autism Center Staff Perspective
"Bella is an absolute joy to work with. Watching her progress here at Lighthouse has increased my motivation to continue the good work we are doing here. An observable behavior that I have seen increase in her since being at Lighthouse is a smile on her face. She laughs and smiles and has developed an interest in the outside world. We are so proud of Bella and cannot wait to see the continued growth she has while attending Lighthouse. We are blessed beyond measure to serve Bella and her family."
– Sara Clark, Lighthouse Autism Center Clinical Director
At LAC, we are seeing incredible progress made by our learners every day.